'Veganuary' could save carbon equivalent of 450,000 flights
Quaker Concern for Animals are urging others to join 'Veganuary 2020', which campaigners claim will save the carbon equivalent of 450,000 flights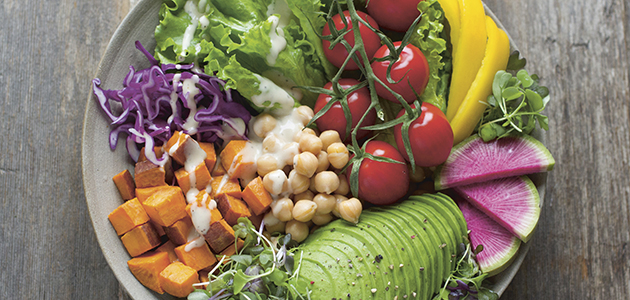 Members of Quaker Concern for Animals (QCA) are urging others to join 'Veganuary 2020', which campaigners claim will save the carbon equivalent of 450,000 flights and more than one million animals.
Martin Layton, from QCA, told the Friend that QCA was 'encouraged' by the number of Friends taking on the Veganuary challenge. 'It seems that more and more of us are waking up to the impact of industrial animal agriculture, which is responsible for the suffering of billions of animals; consumes vast amounts of land, water, and energy; and is responsible for equally large amounts of waste, pollution and greenhouse gas emissions. Initiatives like this are a sign that both individually and collectively we can all make positive food choices that promote justice, benefit humans and nonhuman welfare, and lessen our impact on the environment.'
According to figures released by the global organisation Veganuary, which encourages people to try going vegan in January and beyond, if the expected 350,000 people worldwide take part this month, it will save 160 tonnes of PO43-eq (eutrophication) from waterways. The organisers claim that this would have 'the same impact as preventing 650 tonnes of sewage from entering our waterways, and 2.5 million litres of water – enough water to fill an Olympic-sized swimming pool'.
The new statistics compiled by the environmental researcher Joseph Poore have been used to push a campaign which has already been endorsed by Paul McCartney, Joaquin Phoenix, Chris Packham and Evanna Lynch.
Toni Vernelli, Veganuary's head of communications, said: 'Veganuary 2020 is shaping up to be the biggest year yet with one person signing up every fifteen seconds!'
The organisation ended 2019 with controversy after transport giant Arriva decided to remove ads by the charity on its buses in Shropshire after members of the public complained.
However, Toni Vernelli said the decision was 'outrageous' and claimed they had been 'censored when the messages are indisputable facts'. She said: 'Nearly every day scientists issue new warnings about animal agriculture's heavy environmental toll and urge us to eat less meat.'
You need to login to read subscriber-only content and/or comment on articles.