Last year the Scout Association appointed a woman as chair for the first time in its history. Ann Limb talked to the Friend about her life, faith and work.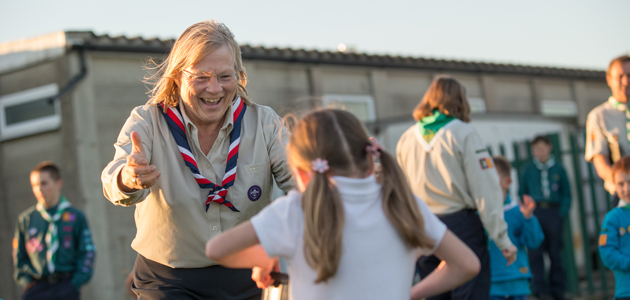 The Scout Association is the largest youth movement in the world, with some forty-four million scouts, and the largest mixed youth charity in Britain. It has a waiting list of 45,000.
A recent, ambitious venture reflects the changing nature of the organisation – A Million Hands. It seems to be based on the principle 'from the bottom up'?
Yes, we consulted young people from the Beavers and Cubs right up to the Explorers and the Network. We asked: 'What concerns you in contemporary British society?' The young people talked about mental health, dealing with disability, the availability of clean water and so on.
So the idea was: why don't we, as Scouts, talk to some of the major charities involved with those issues and see how we can join them up in a unique way and help them? What they needed was not so much fundraising but, at a local level, to get more volunteers engaged and aware.
The national aim is over five years to get a million more volunteers, whether they are dementia friends or people who help out in a local shop or become trustees or whatever and that this has come about as a direct result of the involvement of the Scout movement working with them. Equally, we have tailored some of the work for Scout badges, at all levels, to help Scouts learn about the issues of dementia, mental health and living with a disability. So, it is part of the educational programme as well.
This was really all about modern day Scouting being youth driven – in terms of the major decisions. It was about asking young people. It also involved 'skills for life' because that is one of the things that Scouting gives you. They are more difficult to get at school because of the present curriculum.
Another challenging and important project is Better Prepared.
Essentially, what we are trying to do here is work in the 250 most deprived wards in the UK, as defined by the national index. We take that index, which is available, and we are doing all sorts of activities to create Scout groups in those wards.
White working class boys tend not to engage with Scouting. There are a lot of white middle class boys and girls engaged with Scouting, quite a few Muslims and Sikhs, too, as well as many young people with no faith. The category of white, working class, disenfranchised youth is important. Getting those parents to volunteer. Getting other volunteers from the community to run Scouting groups. Getting schools linked to Scouting to get those kids to do what I call the 'skills for life', and also the discipline and the relationships that you develop in Scouting that come out of that. It is not just the uniform and the activities. It is a culture that is actively working to be inclusive. It is part of a societal change that we need to address.
Understanding life in a deprived area is not unfamiliar to you. You spent your childhood in Moss Side, Manchester.
My background is not one of middle class privilege. That said, my father was a butcher and my mother helped out in the shop, and we lived above the shop. My father had TB as a child and then, in his twenties, he developed epilepsy. He has coped with two major disabilities. The TB left him with one leg shorter than the other. The environment I was brought up in and my father's disabilities were just how things were. They shaped me. I reflect on that more as I grow older and I feel very grateful for what it put me in touch with. My father always treated my sister and myself as just being able to do anything we wanted to. I had an engagement in his business. Even as a very young child I would carry meat on metal hooks and bring them to his shop.
I was a product of passing the eleven-plus and a state girls grammar school, [and then the] University of Liverpool. We were the five per cent. You become aware of the ninety-five per cent who did not make it to grammar school. My parents were not pushy but they were empowering. I was a fat child who was bullied. I did not have a lot of confidence. There is still this self-image of myself that I once had – that the farthest I could go in life would be to serve behind the sweet counter at Woolworths. I was fortunate to go to a grammar school.
You went into teaching and became, at thirty-four, the youngest principal of a Further Education college in Britain, in Milton Keynes.
Yes. I set about trying to transform and change that organisation. It was during that time that I encountered Quakers.
Your background is Church of England. You became a Quaker. Why?
This goes back to when I started to work as principal of Milton Keynes College. I was trying to change the college and to get a better experience for the students. It was an uphill struggle. Today you would call it 'organisational transformation'. What happened was that six or seven people, a librarian, some lecturers, a head of a department, who were going with my vision all seemed to have one thing in common. They were all Quakers! I discovered this completely by chance. One subsequently became my partner of twenty-five years. I think they saw me as a breath of fresh air and liked my values. I simply wrote away to Friends House for a little book about Quakerism and then went to Oxford Meeting. I did not want to meet people at Milton Keynes Meeting who I worked with. When I read the book I realised why Quakers were supporting me – there was a connection in values. As soon as I went to Oxford Meeting I felt 'this just suits me totally'.
Why?
I did not want to be told what to think. I liked the stillness. I liked the ordinariness, the quality and the equality of people coming together in that room and the combination of the silence and the stillness, and everybody being there as human beings, being individuals but also part of a collective that is shared in a very unique way and in a very unique space. It felt very different from being in a Church of England church. Not that I do not like Church of England services and singing hymns or reading the Bible. I am comfortable with that. But this felt like the place I can spend the rest of my life and, of course, I have.
It was a chance encounter?
Yes. I became a member on my fortieth birthday. It was like giving myself a gift. I have been a member ever since.
What role does your faith play in your life?
It plays a huge role in my life. My faith is everything about me, really, and I had an experience well before knowing Quakerism. I was about nine years old and had gone to a Church of England school, but had no other religious upbringing. One day, standing in our dining room at home, I had this voice in my head that said: 'I think I get it. I think God is inside me.' I didn't do anything about that until I started to read, when in my thirties, about Quakers! Who I am, the things I have done, and how I approach my life and my faith are all one to me. My faith feeds my values and determines the actions I take and, obviously, informs the decisions I make about things.
What parallels do you see between Quakerism and the Scout Association?
They are both values driven. The Scout values are respect, integrity and cooperation. They are quite 'Quakerly'. Scout values align with my Quaker values. I do think a concern for the other is so evident in our Quaker social action and in Scouting. It is putting 'faith into action' as a Quaker or putting those 'values into action' as a Scout. They sit very easily together. The third thing is community. We have a particular community in Meeting for Worship. It is essentially the individual in community. Scouting is similar. These parallels all have a great resonance for me.
There is another shared element: believing you can do something that you did not think you could do. Risking failure. Those fears are very real if you are a Beaver. Are the skills you have valued? This is important. We say as Quakers: 'that of God' in each of us. That, to me, is fantastic.
Volunteering is critical to the survival of the Scouts. It is also critical to the survival of Quakerism.
I particularly want to try and encourage people to have a very wide and flexible view of what volunteering means, because if you only think that you need a certain type of person to be a Beaver leader or a certain type of person to sit on a Quaker committee and that they have got to do that for a particular amount of time, which they cannot give, then we will be excluding a lot of people, and we will not be able to keep the organisations going. So, flexible and inclusive volunteering is very dear to my heart.
Why is volunteering important to you?
It is not just about 'giving back', it is also about what it gives to me. I have learnt to be a much better volunteer as I have got older. I used to get so involved as a chief executive that I was demanding and sometimes impatient of others. Now I am able to chair a board and look at things more objectively, a bit more calmly and with greater perspective. I know that the world is not going to fall in if we don't achieve something in twenty-four hours. I think there is a giving back, but there is also what you get in seeing the achievements of others and in making things go well. It really does matter to me that charities are governed well by people who really understand about charity trusteeship, which we have struggled with in the Society, with Meeting for Sufferings and the need to conform with Charity Commission law.
The Kids Company situation was a fiasco. You have to have good governance in place if you want to encourage the public to be philanthropic and to give time and money. That is a burning thing for me.
Some people, particularly former senior executives from business, get involved in charities because they have lost the 'status' of employment, such as money and a private office/PA, but they want the oxygen of still feeling important. So, they become a chair of a charity and end up trying to run it – which is not the role of a chair. They have not sorted out their ego needs. Obviously, this does not apply to all charities, but it is a danger. I want people who have succeeded in their careers to become trustees for the sake of the charity. This is my approach and I imagine why I was chosen to be chair of the Scout Association.
You have spoken out very strongly on the importance of skill sets and apprenticeships. You have worked with Ed Miliband on this.
We have all got gifts and talents. They are all different. Why is one more important than another? The false divide between academic and vocational has bedevilled the education system in my lifetime. The reality is that we have failed those generations of technicians and craftsmen.
Why is it important to you?
I don't have those skills, and the economy needs them. We all need hairdressers and bricklayers. We need engineers who can install renewable energy. We need scientists and craftspeople, and we need to value this as much as we value strategic thinking and people who write reports.
There is not one type of intelligence. Fundamental to this is my belief in multiple intelligences: artistic intelligence; emotional intelligence; practical intelligence; and academic intelligence. All of these are necessary in the world and I feel we are good at valuing this as Quakers – but I do not think society is.
You need to login to read subscriber-only content and/or comment on articles.