US Friends support Vanguard arrestees
'Members of the Earth Quaker Action Team were among a group of around 100 protestors targeting the multinational company Vanguard, when sixteen were arrested.'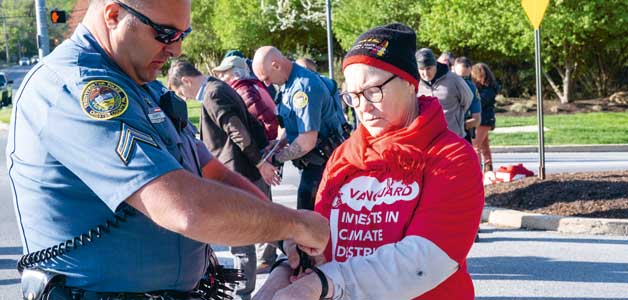 Quakers in the US are urging Friends to support sixteen people who were arrested for taking part in climate protests against a major global company.
Members of the Earth Quaker Action Team (EQAT) were among a group of around 100 protestors targeting the multinational company Vanguard, when sixteen were arrested. On 19 April, Vanguard customers, Quakers, and other climate activists, blocked four driveways leading into Vanguard's campus during the morning rush hour. At the same time, hundreds of Vanguard customers from across the US were calling its asset manager, asking Vanguard to do better on climate.
'This is an "all hands on deck" moment for addressing the ecological crisis. I'm here today because I feel that urgency and because we need Vanguard leadership to also feel that urgency,' said Frank Fortino, a member of Extinction Rebellion Philadelphia, who was arrested.
EQAT says that Vanguard is one of the world's two largest investors in fossil fuels and 'a major laggard in responsible shareholder engagement'. The group has been involved in a longstanding campaign against the company, which has been supported by British Quakers with parallel protests in the UK.
Eileen Flanagan, director of Strategy and Partnerships for EQAT, said: 'As sixteen of our friends from multiple organisations were arrested, we sang the South African song "Courage", inserting a different name for each verse: "Courage, Nancy, you do not walk alone. We will walk with you and sing your spirit home."
'EQAT is committed to making sure that none of these brave volunteers walk this journey alone, including with the financial burden of bail, fines, or other legal expenses.'
The group is asking Friends who cannot help financially to consider calling Vanguard's customer service department via a link on its website, asking it 'to take meaningful, ambitious climate action'.
You need to login to read subscriber-only content and/or comment on articles.