Thought for the week: Paul Oestreicher on a singular third person
'The word that best describes him is compassion. He hated no one.'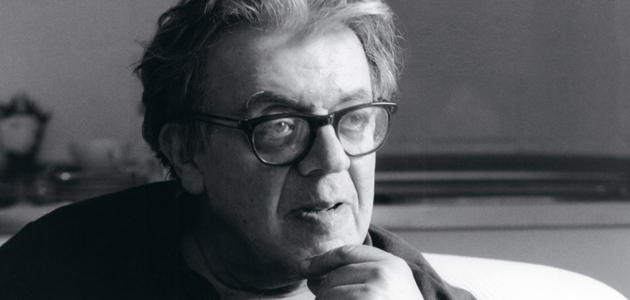 I see that contributors in these pages have been discussing the term 'It is what it is'. Friends might not know that these words are the title of one of the most read and loved poems in modern German literature: 'Was es ist' [What it is], by Erich Fried. Erich, who died in 1988, was one of my closest friends. He was the closest to being a non-Quaker Quaker that is imaginable.
Erich was born in Vienna to Jewish parents in 1921. After Hitler's annexation of Austria, he fled to London. The Nazis had murdered his father but he managed to organise the escape of his mother and a good many other Jews. He lived in London for the rest of his life. Erich was a natural wordsmith in his mother tongue. He earned his living by translating Shakespeare, TS Eliot and others.
By the late 1960s Erich had become the most popular German folk poet. A radical young German generation sat adoringly at his feet. His razor sharp political mind led to many volumes of poetry. It was his love poems, however, that became bestsellers.
From the early years of the cold war, Erich was employed as a political commentator by the German service of the BBC, broadcasting largely to an East German audience. That job hit the buffers because his radical critique of both East and West was too much for the Foreign Office. By then, he had more than found his cultural feet. His lifestyle in north London – and his home, open to all and somewhat chaotic – is perhaps best described as bohemian. He married three times and kept close to all his wives, with children from each. The word that best describes him is compassion. He hated no one.
Once, a producer at Radio Bremen invited Erich to debate with the leader of the local neo-nazis. When Erich arrived, he found that the director had uninvited the right-wing extremist because it was bad form to expect a Jewish victim to debate with a known anti-semite. Contrary to expectation, Erich was far from pleased. On air, Erich expressed his regret at not having an adversary. After the broadcast, Erich visited the man, who had never before met a Jew. They talked long into the night. Was his mind changed? Whether or not, he (though not his mistaken ideas) was respected.
'Was es ist' has outsold any collection of poetry in present day Germany:
It is nonsense says reason
It is what it is says love
It is calamity says calculation
It is nothing but pain says fear
It is hopeless says insight
It is what it is says love
It is ludicrous says pride
It is foolish says caution
It is impossible says experience
It is what it is says love.
You need to login to read subscriber-only content and/or comment on articles.