Thought for the week: Nick Tyldesley's beach of the peace
'You are not far from the shrines of Walsingham, but the sea is the main attraction.'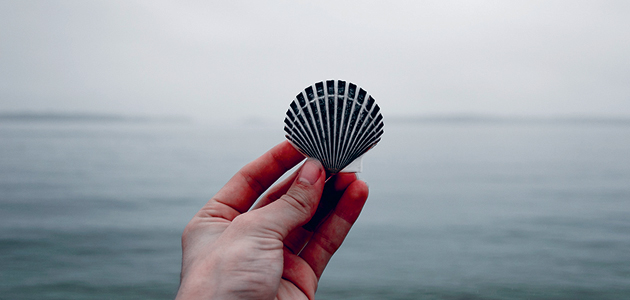 The city of Norwich is one of my favourite places. I once acted in Murder in the Cathedral there, in its cloisters. The roof beams carry wonderful medieval portraits. I also love The Plantation Garden – a Victorian walled garden hidden away in the city centre. Its rockeries remind those living in flat East Anglia that hills are a source of wonderment. Then there is the tiny cell occupied by the anchoress Julian of Norwich, who spent her life there as a recluse in the late fourteenth century. It was here that she wrote The Revelations of Divine Love, describing her visions of Christ's passion and her desire to experience similar sufferings. But her theology is positive: 'At the same time our Lord showed me a spiritual vision of his familiar love. I saw that for us he is everything that we find good and comforting. He is our clothing, wrapping us for love, embracing us and enclosing us for tender love.' Certainly Julian found all her needs met in her isolation, travelling in mind rather than body to nearby Walsingham.
Some twenty miles to the north is Cromer, 'the pearl of the Norfolk Coast'. Here we can travel back to the atmosphere of a 1950s seaside resort. There is an end-of-the-pier show; opportunities for crabbing (and eating the dressed crab); and an eclectic museum containing mammoth bones and lifeboat memorabilia. Cromer lacks the brash vitality of Blackpool but has its own quiet charm. You are not far from the shrines of Walsingham, but the sea is the main attraction. One could be reminded of the 'The Shell' by Amy Carmichael (1867-1951):
Upon the sandy shore an empty shell,
Beyond the the shell, infinity of sea;
O Saviour I am like that empty shell;
Thou art the Sea for me.
A sweeping wave rides up the shore, and, lo,
Each dim recess the coiled shell within
Is searched, is filled, to overflow
By water crystalline.
Not to the shell is any glory then:
All glory give we to the glorious sea.
And not for me is any glory when
Thou overflowest me.
Sweep over me, Thy shell as low I lie,
I yield to the purpose of Thy will,
Sweep up, O conquering waves, and purify.
And with Thy fulness fill.
Theology can be obtuse in concept and language. But even on a deckchair in the sun, or a bench in the park, we can connect with this poem, and with Julian of Norwich: 'We need to have three kinds of knowledge: the first is to know our Lord God; the second is to know ourselves, what we are through him in nature and grace; the third is to know humbly what we ourselves are where our sin and weakness are concerned'.
Nick is an ecumenical Friend
You need to login to read subscriber-only content and/or comment on articles.