Thought for the week: Frank Regan handles the truth
'And what will truth set us free for? To live life to the full.'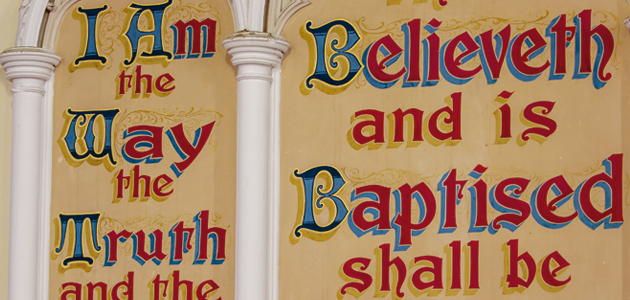 My friend Bob Lovett's Thought for the Week (30 October) set me to thinking thoughts of lesser calibre. Bob raises a concern we should all have: how do we know the truth, and can we rely on our cultural resources to be reliable? The panorama becomes blurred when we remember our quantum universe, where Heisenberg's Uncertainty Principle is guide and there might be more to Schrodinger's cat than a seductive purr.
Bob has probed the Quaker tradition for its insights. This can be a fraught enterprise given that our cultural context and our theories of knowledge are shifting.
In the nineteenth century an intellectually-beleaguered Roman church issued a Syllabus of Errors, eighty beliefs that a Catholic could not hold. A few years later the Pope was declared infallible in matters of faith and morals. Later again, a professor at Princeton University published a two-volume opus expounding on biblical inerrancy. Both strains of Christianity were frayed by the rise of Darwinism, modern criticism and Marxism.
Infallibility and inerrancy are very heavy burdens to bear, and unrealistic expectations to satisfy. What is the seeker to do?
Jesus referred to himself as the way, the truth and the life. The phrase has certain logic to it. If we walk the way Jesus walks, we shall arrive at knowing the truth. Elsewhere Jesus promises that we shall know the truth and the truth will set us free. And what will truth set us free for? It will set us free to live life to the full.
Way. Truth. Life. Jesus might be saying that, if we live life the way he did, we will discover what living is about. First we walk the walk; then we can talk the talk.
Jesus makes no claims to infallibility, certainty or inerrancy. He invites us to walk. As we reach the horizon, another horizon will open out. The search is ongoing; the truth becomes a gradual unveiling. Or is Truth our scarlet pimpernel, impossible to discover? Surely there is Truth, or truths, by which we live. We live by the truth of our reality, with its political, economic, social and cultural dimensions. We engage with that reality. We live by the truth of the way in which we engage with our reality – the truth of commitment, concern, generosity, solidarity and so on. And we live by the truth of faith, by which we know ourselves loved by God, invited to enter into the mystery of the reign of peace and justice.
The search for the Truth demands discernment and responsibility. There is Truth which is to be grasped by the intelligence of the mind. But there is also Truth which is to be grasped by the intelligence of the heart. To be a Friend of Truth is to be a lifelong seeker.
You need to login to read subscriber-only content and/or comment on articles.