Thought for the week: Catharine Weaver on open living
'I find it increasingly natural to move into open water, readying myself for the Spirit.'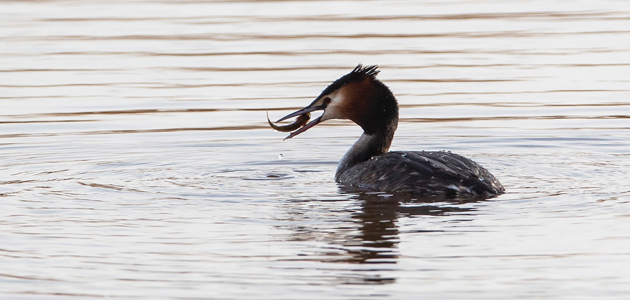 I sit still, listening to the repeated opening and slamming of the outer door as other Meeting house users arrive. Our small number of evening worshippers has centred down, probably barely aware of the sounds, while for me they intrude yet. Can we not wedge that door open? After all, openness is what we seek.
In my mind's eye I relive our afternoon's birdwatching at Rutland Water. The lagoon viewed from the visitor centre is perfectly lit by February sunshine, highlighting the glossy plumage of waterbirds as they dive and dabble, probe, preen and rest, each species surviving because it has adapted to its environmental niche and been able to exploit its natural gifts. Life on this reserve is good and flocking maximises the chance of success, by increasing knowledge of resources and enhancing the individual's security on open water.
I watch great-crested grebes pairing up as they face then follow one another, opening to the rituals of courtship. They are at one with nature, thriving – not merely surviving. This is also how I feel as I watch and, yet again, how I feel while centring down among my fellow worshippers.
Leaving the centre's viewing gallery, I pass the reserve's director, who stands at work in his office but looks up, clearly ready to chat. His is an open-door policy. His example is inspirational. It must be a joy to take this approach, always ready to engage with people, alert to opportunity, open-minded, open-hearted: what an example for living!
In Meeting, too, supported by a like-minded group (or is it flock?), I find it increasingly natural to move into open water, readying myself for the Spirit. I am thriving – not merely surviving. Beyond these comfort zones it is harder but I feel some shifting of mind-set and in my heart some accretion of power. Is this an opening, too?
For his 2014 Swarthmore lecture, Ben Pink Dandelion chose as title not the rather tentative Open to transformation, but the more decisive Open for. Like the waterbirds on the lake, both we and our community can flourish in the nurturing environment of our group. Here we can experience the joys of developing our gifts as we open ourselves to the Spirit's transforming power. Thus we also change our community, together building a whole greater than the sum of its parts. It is less easy, though, to move beyond these comfort zones, this group security, ready to be the change in the wider world. Life is more demanding beyond the flock. Outside the Meeting, spiritual resources may seem diminished; needs and problems overwhelming.
Tonight I feel nudged into ministry, now breaking into the silence and tomorrow taking my gifts beyond the Meeting. Tentatively, I am ready to explore what this openness may do to my life. Can I face the demands that Spirit will make on me for a new way of living. Will I be uplifted and empowered? Am I wholly open for transformation? I do want to wedge open the door, but am I actually ready for open living?
You need to login to read subscriber-only content and/or comment on articles.