The White Book of Carmarthen
The White Book tours Wales collecting messages of peace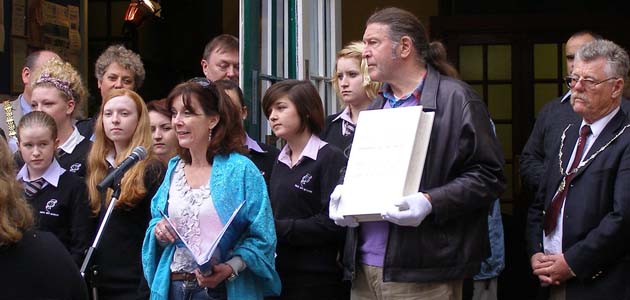 Quakers in west Wales are preparing for a historic visit – by a book. The White Book of Carmarthen, launched by Welsh pacifists, is touring Wales and is expected to be welcomed shortly at Carmarthen Meeting.
The book – known as Llyfr Gwyn Caerfyrddin in Welsh – is named after the medieval Black Book of Carmarthen, a treasured historical document. The White Book is full of blank pages, allowing people across the country to write in their messages of peace. It has been touring churches, chapels and other venues since it began life in September.
The Quaker Meeting in Carmarthen is relatively new and meets once a month. By asking for a visit from The White Book, they hope to show their commitment to the wider peace movement.
The book is an initiative of Cymdeithas y Cymod, the Fellowship of Reconciliation in Wales. It has been supported by Carmarthen Town Council and produced by the National Library of Wales.
'The book is an artistic treasure, with fine paper and covers,' said a spokesperson for the fellowship, 'but more than this, it will also be a social treasure, as it will announce to the world the names of people who believe in peace.'
Stevie Krayer of Lampeter Meeting, who attended the launch of The White Book, told the Friend that she is keen to see Quakers in Wales working alongside other peace campaigners.
'I think there is a great impetus for peace in Wales,' she said, 'Wales has got quite a tradition of pacifism and being pro-peace, perhaps stronger than other parts of the UK'.
She suggested that this tendency can sometimes make the Quaker commitment to pacifism appear less immediately distinctive than it might do elsewhere. The Union of Welsh Independents, a Welsh-speaking Congregationalist group, emphasise their 'radical tradition of pacifism'. They hosted The White Book on Remembrance Sunday at Minny Street Independent Church in Cardiff.
Stevie said that the 'big issue' for the Welsh peace movement is the campaign against drones, also known as unmanned aerial vehicles (UAVs). Military drones are tested at a site in Parc Aberporth, only a few miles from Carmarthen. The site attracts frequent protests by Quakers and members of Cymdeithas y Cymod.
Drones can be fired by 'pilots' who are sitting at desks thousands of miles from their targets (see 'Playstation warfare', 7 October 2011). The new 'Watchkeeper' drone, which was first tested at Aberporth in 2010, is likely to be deployed by the UK armed forces for the first time this year.
British pilots have until now operated drones in Afghanistan from the US. Later this year, they will be controlled from the UK for the first time, when drone pilots will be moved to RAF Waddington in Lincolnshire.
You need to login to read subscriber-only content and/or comment on articles.