The return of Art the Arms Fair
'Most Londoners don't know that their city plays host to arms dealers or facilitates weapon deals with very real consequences.'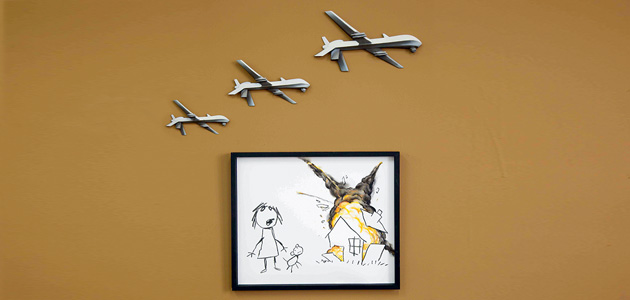 The award-winning Art the Arms Fair has returned for its third run, in a bid to raise awareness of the DSEI arms fair.
The partly Quaker-founded exhibition has been selling art from all over the world including Afghanistan and Iraq at what it calls its 'boutique' in Mayfair.
Artists featured include Piers Secunda and Walid Siti as well as Quaker artist Jill Gibbon, who spent several years infiltrating DSEI in disguise.
The exhibition also features work created by three artists from conflict-affected countries working with the non-profit group Art Represent, which the fair has partnered with this year. This includes Azim Fakhri, also known as Kabul Knight, whose work responds to the recent atrocities in Afghanistan.
Ksenya Blokhina, the organiser of this year's Art the Arms Fair, said: 'Most Londoners don't know that their city plays host to arms dealers or facilitates weapon deals with very real consequences.'
Baiqu Gonkar, Art Represent's founder, which supports displaced artists, said: 'The glamourisation of weapons makes it feel as if these tools of destruction have nothing to do with the consequences of conflict.'
The first Art the Arms Fair in 2017 included an original art piece produced by Banksy, Civilian Drone Strike (above), which sold for £205,000 in aid of Campaign Against the Arms Trade (CAAT) and Reprieve. In 2018, the fair won The Observer and NESTA 'New Radicals' Award.
You need to login to read subscriber-only content and/or comment on articles.