Spoilt for choice? Dana Smith's Thought for the week
'Our choices change if we see the world as family.'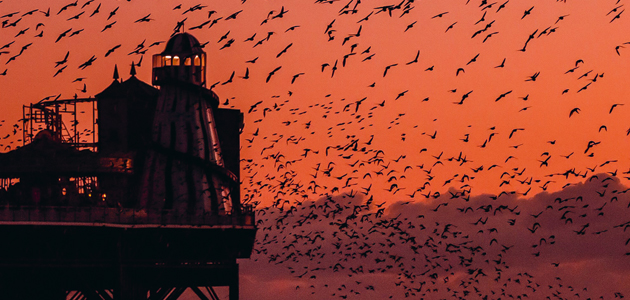 During lockdown, when human background noise quieted, the birds seemed more present. As I watched them tear through the sky, I pondered the mystery that calls starlings to pirouette in perfect murmurations. Like Quakers, they seem pretty non-hierarchical, rotating the role of directional change. The gatherings allow them to evade predators, stay warm and exchange information. But could we say that the birds are really making their own choices?
The question applies to us, too. Is there an element of choicelessness when we gather for Meeting for Worship? Are we compelled by habit or calling? Perhaps stillness is a ground of liberation that allows us to live with both agency and impotence.
We can also be without choice in the most profound aspects of our lives: accompanying a beloved as they die, or dying ourselves. We have little choice as to whether we will have cancer or dementia. We may not chose to be carers. Other events are far beyond our individual choosing: we cannot decide when spring comes.
Quakers believe in choice – our agency matters. We choose to walk through the world cheerfully, seeing the divine in everyone we meet. Some days we have to make this choice again and again, in the tiny resurrections of a friendship, or in a punch not thrown.
In January we often reflect on our choices, and the things we could not choose. Maybe we did not choose a moment of happiness when a friend or family member returned to our lives. Maybe we were incapacitated by a depression or an anxiety.
Perhaps a saint is a person who does not choose whether or not they will love. It is foregone, an inescapable momentum. Or maybe they have so honed the act of choosing in alignment with the spirit that it seems instinctive. Maybe virtue becomes a reflex, a movement as encoded as the starlings' murmuration.
When I lived in Haiti, a place of suffering and poverty, I met people who still chose life and love. I witnessed the sometimes-harrowing art of balancing acceptance and action. A hungry thirteen-year-old boy, feeding a new encephalitic child in the orphanage before he devoured his own rice and beans, said, 'He's my brother.' Our choices change if we see the world as family. During the revolution that ousted Jean-Claude Duvalier, I returned late one night to see him sitting on the roof. I did not need to ask what he was doing. 'M'ap priye pour ou,' he would have replied. I'm praying for you.
Perhaps our wisdom and our peace lies in moments of insight – the times when we learn to wait, and the times when we understand we must act more radically. As we are led or flung into a world we would never have chosen, may we remember the sacrament of our lives. May we bless our choices and make peace with what we are unable to choose.
You need to login to read subscriber-only content and/or comment on articles.