Quakers welcome end to five-year fracking dispute
Friends welcome the news that fracking company Cuadrilla will not appeal against the refusal of planning permission for a second shale gas site in Lancashire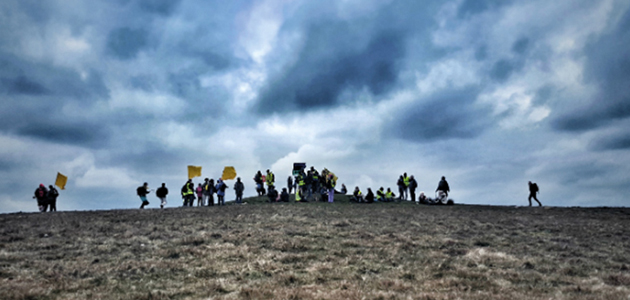 Quaker anti-fracking campaigners are celebrating the news that fracking company Cuadrilla will not appeal against the refusal of planning permission for a second shale gas site in Lancashire. The announcement on 22 March that the company will not pursue plans for Roseacre Wood near Blackpool ends a five-year planning dispute between Cuadrilla and local residents. Campaigners have said they 'can breathe a sigh of relief'.
Lancashire Quaker Hilary Whitehead, member of the No Faith in Fracking group, said the announcement was 'good news'. She told the Friend: 'It just wasn't practical with the country lanes.'
Roseacre Awareness Group, which has opposed the scheme since 2014, said it was 'delighted' and added: 'We have been saying for years that the traffic issues… are insurmountable.' It also highlighted the stress and 'thousands of pounds' involved in producing evidence and pledged to continue raising awareness to help other communities 'most especially our friends at Preston New Road (PNR)'.
Hilary Whitehead, who has been involved in protests at the PNR site in Lancashire, said No Faith in Fracking is having a planning meeting to consider how members can connect with Friends in areas threatened by fracking. She said: 'We would like to go to other sites and help people do what we are doing with vigils, etc.' She said they are particularly interested in supporting resistance against the Misson Springs site in South Yorkshire where she said they are 'getting close to frack'.
Cuadrilla called this month for changes to the regulations on seismicity induced by fracking to take account of ground vibration. Speaking on 4 April, it said that current regulation makes shale gas commercially unviable. The current traffic light system requires fracking to pause if it induces seismicity measuring 0.5 magnitude or above.
You need to login to read subscriber-only content and/or comment on articles.