Quakers on Songs of Praise
'There is a hope that the Radical Trail could eventually be extended and become the whole Quaker Way through the North West to Ulverston.'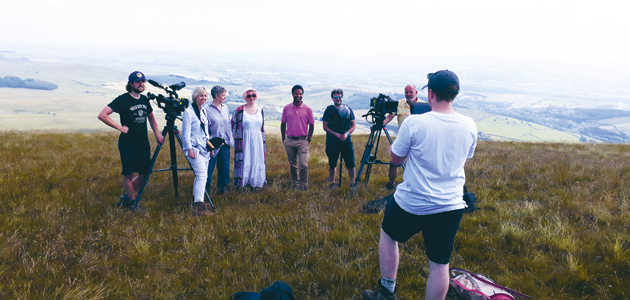 Pendle Hill Quakers are to feature in a BBC Songs of Praise episode this weekend.
Ben Pink Dandelion, from Clitheroe Meeting, told the Friend that the programme on 12 September 'will include a segment visiting the new plaques on Pendle Hill about the start of the Quaker movement and talking about George Fox's experience there in 1652'.
Britain Yearly Meeting BYM local development worker Wendy Hampton, who took part in the filming, said that her involvement in Songs Of Praise came from the Pendle Radicals Project. The initiative includes a Radical Trail across Pendle Hill and resulted in a film about George Fox, featuring Tracey Chevalier. The trail marks key places along what is considered to be the route George Fox took across the hill and down into the village of Downham.
Wendy Hampton said: 'As a spin-off from that, Songs of Praise wanted to make an episode looking at the area and why it is radical. We were then asked if we could take part in the filming to tell the story of George Fox's vision on the hill and how that grew into an international religious movement.'
Ben Pink Dandelion and Wendy Hampton advised on the wording of signage and the history of the Quakers for trails around Pendle Hill.
Wendy Hampton said: 'Pendle Borough is keen to increase access to the countryside around here. There is a hope that the Radical Trail could eventually be extended and become the whole Quaker Way through the North West to Ulverston, to go through areas of historic interest to Quakers.' The Pendle Radicals Project is run by Pendle Arts and Pendle Borough Council, as part of the Pendle Landscape Partnership.
The partnership secured £1.8 million from the Heritage Lottery Fund (HLF) for a four-year programme of heritage activity based on and around the iconic hill.
You need to login to read subscriber-only content and/or comment on articles.