Quakers mark International Conscientious Objectors Day
Friends around the country marked International Conscientious Objectors Day on 15 May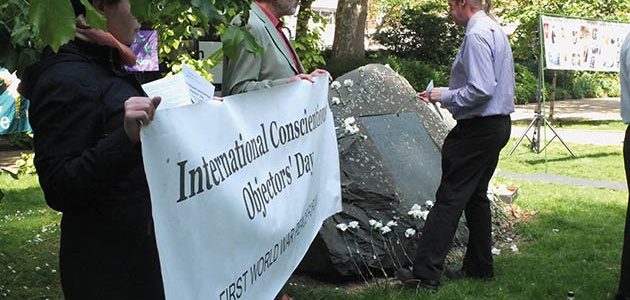 Quakers around the country marked International Conscientious Objectors Day last week with vigils, ceremonies and arts events. Friends gathered for a ceremony at the 'commemorative stone' in Tavistock Square in London on 15 May, which was just one of many events that took place all over the world. In countries in which conscription is still in force, such as Israel, South Korea and in Sweden, where it has recently been reintroduced, there were protests.
This spring marks the centenary of the release of most – but not all – conscientious objectors (COs) still in prison in 1919 for refusing to fight in world war one.
Speakers at the Tavistock Square event which was organised by the First World War Peace Forum, a network of peace and human rights organisations, included historian Lois Bibbings, an expert on the conscientious objectors of the first world war, and Jay Sutherland, a Scottish pacifist who has challenged military activities in his school in Ayrshire.
Lois Bibbings, professor of law at University of Bristol whose father was a CO, told the Friend that her talk focussed on the centenary of 'absolutist COs being released from prisons in the first world war' as well as 'women's congress in Zurich, which is good, and the publication of the Treaty of Versaille, which is rather less good'. She said it was important to share the COs' stories nowadays for 'peace education' and to highlight the more 'complicated history' of 'conscience and decision- making' in combat, and 'those who aren't usually involved in mainstream remembrance'.
Jay Sutherland spoke about the targeting of working class teenagers for military recruitment: 'The same psychological tactics that the armed forces and their allies used then are being used now… In the village I grew up in, which was in a rural part of Scotland and very deprived, I saw the army first-hand come into my community and try and persuade and convince people who were hit hardest by austerity to keep buying into the the very structure and state that had harmed their lives.'
Edinburgh Quakers also held a vigil, with songs by Protest in Harmony and brief talks by CO descendants, as did Carlisle Friends at the plaque at Hardwick Circus, which was instigated by Quakers and dedicated to COs in 2018. The vigil included pictures of people currently in prison because of their refusal to fight or take up conscription.
Howard Cheesman, from Carlisle Meeting, told the Friend that after the vigil there was a screening of the film War School, followed with ten-minute worship sharing ('because the film is so powerful') and a discussion. He said: 'There were twenty at the film followed by a lively discussion and five names [joined up] for a subsequent follow-up exploration of a Peace/ Anti Militarisation Group to investigate taking local actions.'
He said the group was formed as 'we felt it was good to have an outcome and focus after the film, instead of people going away feeling aggrieved'.
Manchester Quakers also held a vigil on the steps of the Friends' Meeting House, Mount Street, organised by the Peace Garden Group and the Area Meeting Peace Promotion Group. Friends held placards with messages including 'Resist All Wars', 'Honour COs', 'Stop the Arms Trade' and 'It Takes Courage to be a CO'. There was also a Peace Trail around central Manchester, which, according to Manchester Friends, covered 'Manchester as a centre for peace and radical political activity, including John Dalton, Mines Advisory Group, the Nobel Peace Prize, Gandhi's visit, Peterloo and campaigns against slavery'.
According to Oldham Peace and Justice Group, which also hosted a screening of War School, followed by a Q&A with the film's director, Veterans for Peace, and Demilitarise Education,
'We were keen to spread the message that this is not just to honour the COs of the two world wars but also those in countries today with conscription who face the dilemma of whether or not they will kill for their country. We also mentioned ways in which we can resist the jingoistic pull of militarism today in our supposedly peaceful societies.'
The day also included art events, with The Peace Museum in Bradford holding an event called 'Prisoner of Conscience: An exploration of COs from The Peace Museum's collection' with a talk from Tim Briggs, a family member of one of the COs. At the Quaker Service Memorial at the National Memorial Arboretum in Staffordshire, there was a Meeting for Worship.
You need to login to read subscriber-only content and/or comment on articles.