Quakers gather online for Swarthmore Lecture 2020
Tom Shakespeare considered hope in an era of pandemic, climate emergency and rightwing populism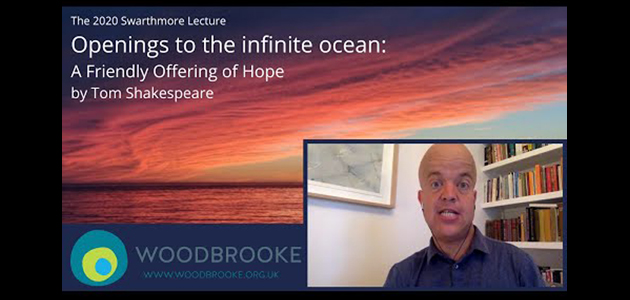 Almost 2,000 Friends gathered online to hear the 2020 Swarthmore Lecture by social scientist, writer and broadcaster Tom Shakespeare last weekend. In Openings to the Infinite Ocean: A Friendly Offering of Hope, Tom Shakespeare considered hope in an era of pandemic, climate emergency and rightwing populism, quoting poet Grace Paley's words: 'The only recognisable feature of hope is action.'
Jon Martin, communications manager from Woodbrooke, told the Friend that there were 1,500 views on the live-stream of the lecture on 1 August, with over 250 viewers for the lecture's Premier video showing on the Woodbrooke YouTube channel on 2 August. He said: 'People in the chat, including Tom, were from Britain, North America, Finland, Indonesia and elsewhere. At the time of writing, we have had 180 views on the video (on top of the 250). We had some great responses on Twitter. As of Monday morning, we are expecting over 100 Friends to join us across two Meet the Lecture sessions. Tom is also part of the BYM Young People's programme this week.'
Paul Parker, recording clerk of Britain Yearly Meeting (BYM), called the Woodbrooke-funded lecture 'a life-affirming, hope-filled, grounded outpouring', while Friends reacted to the lecture on social media. Several Quakers particularly enjoyed the lines that 'as Quakers we should be a constant disturbance in society'. Friend Lisa Cumming described the lecture as 'fascinating and suitably challenging', while on Facebook Oliver Robertson, head of Witness and Worship for BYM, said 'the part… that most stuck with me was when Tom Shakespeare asked "What would Quakers do today that would make us really unpopular?" Any thoughts?'.
Four more sessions exploring particular themes from the lecture are planned for September.
You need to login to read subscriber-only content and/or comment on articles.