Quaker wins landmark arms fair appeal
'There should be a certain degree of tolerance to disruption to ordinary life, including disruption of traffic, caused by the exercise of the right to freedom of expression or freedom of peaceful assembly…'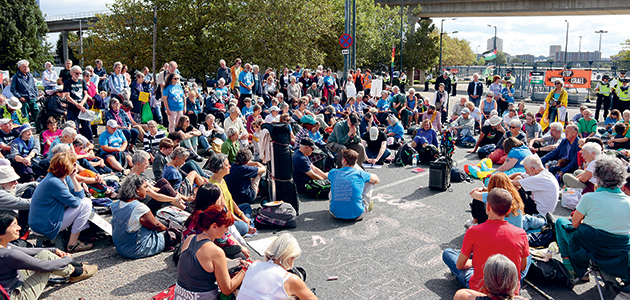 A Quaker is one of four Christian protestors who have had their convictions quashed by the supreme court for forming a blockade outside a London arms fair. The ruling has been hailed as a significant affirmation of the right to protest.
Tottenham Friend Jo Frew was charged with highway obstruction using 'lock-on' devices to block access to the Defence and Security Equipment International (DSEI) arms fair at the ExCeL Centre in London's Docklands in 2017. The group of four were found not guilty in February 2018, but the prosecution appealed and they were convicted at the high court in January 2019 and given a conditional discharge for twelve months.
Nicholas Hamblen and Ben Stephens, of the supreme court, said last week: 'There should be a certain degree of tolerance to disruption to ordinary life, including disruption of traffic, caused by the exercise of the right to freedom of expression or freedom of peaceful assembly… Political views, unlike "vapid tittle-tattle", are particularly worthy of protection…'
The protestors welcomed the ruling. One protestor, Chris Cole, said it was 'particularly important in the context of attacks on the right to protest in the policing bill currently going through parliament'.
The other two protestors were Nora Ziegler and Henrietta Cullinan.
You need to login to read subscriber-only content and/or comment on articles.