Quaker centenarian raises £40,000
Ruth Saunders, 104, undertakes 104 sponsored autumn walks for Thames Valley Air Ambulance.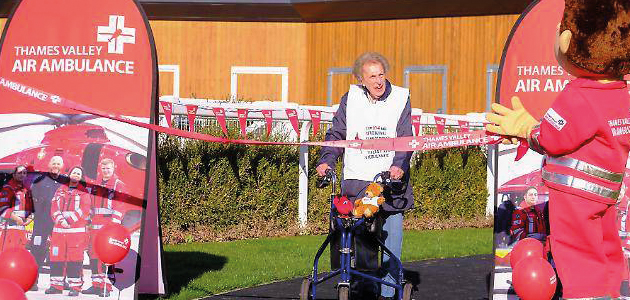 Newbury Quaker centenarian Ruth Saunders, inspired by Tom Moore who famously raised £32 million for the NHS by walking 100 laps of his patio in the days leading up to his 100th birthday, has gone one further by completing the final lap of her marathon. She walked the final two laps at Newbury Racecourse on 4 November where she was filmed and photographed. Her story has appeared in the press throughout the country.
Ruth, who is 104, originally set out on 104 sponsored autumn walks to raise money for Thames Valley Air Ambulance. She then extended her goal and has so far raised over £40,000. She said: 'You can say Tom was my role model in this. I just thought that if he could do it, so could I, even though I am four years older. I am not setting any cash targets. I just want to make as much as I can.'
Of the Thames Valley Air Ambulance, she said: 'They are such wonderful people and came to the assistance of my son when he needed them. I want to do something to help them in return.' Ruth Saunders' fundraising page is at: www.justgiving/fundraising/ruthsaunders104.
You need to login to read subscriber-only content and/or comment on articles.