Quaker bares all in House of Commons
'Behind every activist who gets arrested, there needs to be twenty other people in support roles.' A Quaker was among those who staged a protest in the House of Commons public gallery on 1 April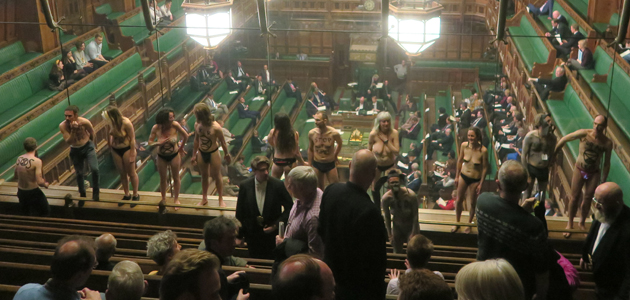 A Quaker was one of the twelve partially naked Extinction Rebellion (XR) protesters who stormed the House of Commons public gallery on 1 April in order to urge politicians to take action on climate justice.
Quaker James Deane, from Central Meeting in Bristol, was one of the activists arrested who stripped off to a thong. He was held for roughly five hours at Walworth Police Station in London before being released without charge on bail and under the condition not to be within 100 metres of any entrance to parliament. However, James Deane told the Friend, based on conversations between the lawyers and police, 'we think we're going to have that condition removed – we think the police officer who has charge of the case is likely to accept that it is not relevant'.
He said being present when the Quaker Canterbury Commitment was passed was 'deeply affecting' and moved him to take action. He said: 'I've seen other Quakers acting on their conscience and faith and been inspired. The science is done, there is no argument now, it's a case of whether we want to save the things we love. I think the choice is stark. I want to avert suffering and people are suffering at the moment. The politicians are looking the other way which is not acceptable.'
XR held another event on 15 April, blocking the streets of London with a 'Glastonbury-style festival'. James Deane urged Friends to get involved. He said: 'There are lots of non-arrestable roles. Behind every activist who gets arrested, ideally there needs to be twenty other people in support roles – from answering telephones to counselling.'
You need to login to read subscriber-only content and/or comment on articles.