Peace billboard in Manchester city centre
Northern Peace Board acts as great connection point for sharing ideas and assisting collaborative working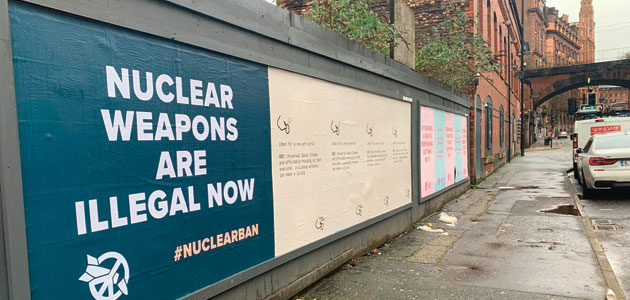 Billboard posters highlighting the United Nations Treaty on the Prohibition of Nuclear Weapons (TPNW) have been posted in Manchester city centre, thanks to the Huddersfield 'Quaker Roots' group and a Manchester and Warrington Area Meeting group for 'the Promotion of Peace'.
Local Quaker Allison Challen told the Friend: 'The posters which read "Nuclear Weapons are Illegal Now" went up on Monday 1 February, following on from a letter concerning the Nuclear Ban Treaty printed in the Manchester Evening News.
'Friends from the two groups benefited by having links through Northern Friends Peace Board, which acts as a great "connection point" for sharing ideas and assisting collaborative working.'
The TPNW was ratified on 22 January when Honduras became the fiftieth state to sign the treaty in October 2020, meaning that the bill came into force as international law. The UK government is still refusing to engage with the treaty.
Children from Nailsworth Meeting also celebrated the ratification of the UN treaty, which has now been signed by more than eighty countries. Clerk of the Meeting Colin Gerard said: 'This is a big step forward in ridding the world of the threat of nuclear weapons. It is a shame that the UK government has refused to sign, and the next step is to persuade it that it must join this historic process.'
You need to login to read subscriber-only content and/or comment on articles.