'Our own creativity can best come from deliberately-chosen places of quiet and silence.'
Thought for the week: Peter Varney on the art of serenity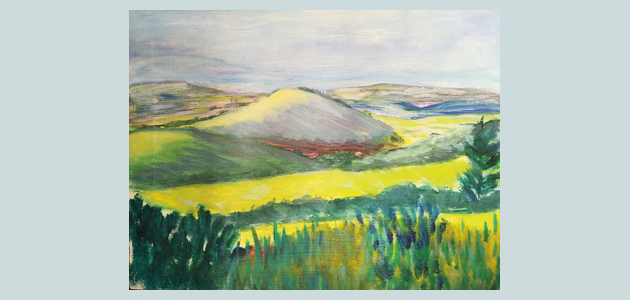 Advices & queries 29 tells us that 'Old age… can… bring serenity.' But lockdown has taught me that it might be more widely available.
The world's religions frequently suggest we need places of waiting – places where we accept and go with the flow of life. Lao Tzu asks: 'Do you have the patience to wait till your mud settles and the water is clear? Can you remain unmoving till the right action arises by itself?'
For me this has been a time of waiting, discovering and receiving God's love – finding places of calm. I have found an expanding consciousness. I have taken the opportunity to take up, and explore more deeply, things I've often postponed. It's been a time to live a little more adventurously. This has included new ways of painting.
The process of putting down a line or shape, of mixing colours, can be spontaneous. It can also be a time to wait, and to be totally absorbed in the task. In this way it can be a place where the Spirit flows and the painter finds calm and serenity.
This happened while I was trying out a new medium, water-soluble oils. I was cautious about whether they could work. I am happy that I gave time to discovering what they can do, and one of my paintings is shown here. It is based on an imagined view of the Brecon Beacons: the shapes and details just took their own form as I put down the paint. I felt a strong urge to include some bright colours, and the 'bright field' of RS Thomas' poem seemed to find its place.
The Book of Genesis suggests that God's creative word came out of the void or silence to bring our world into being. Our own creativity can best come from deliberately-chosen places of quiet and silence, where we may receive and reflect God's love. Finding God in this way can be profound – painters can be 'taken over'. We access parts of ourselves that we are often too busy to use. We discover how creativity and spirituality interconnect. We find the need to pause, to reflect, to engage in the process, not knowing what the end result will be.
Another insight comes from the Russian artist Wassily Kandinsky: 'The inner voice of the soul tells [the artist] what form [they] need, whether inside or outside nature. Every artist knows, who works with feeling, how suddenly the right form flashes upon [them], and a true work of art must be like an inspiration.'
As we move out of strict lockdown we have more choices. We can find new ways of making our lives creative, taking time to reflect and re-form ourselves. We can now look forward to new opportunities and perhaps find we have changed the priorities for the time that is still ahead of us? And when we are stuck we can reimagine the places and times we found peace and serenity.
You need to login to read subscriber-only content and/or comment on articles.