Menwith Hill report reveals US drone bombings
'The involvement of the UK and Menwith Hill in an assassination that threatened to spark a war should be of great concern.'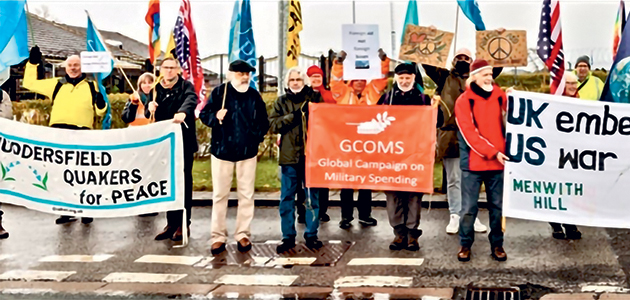 A major report claiming that RAF Menwith Hill has provided intelligence for US drone bombing campaigns in the Middle East was launched at Harrogate Meeting House this month.
The Menwith Hill in 3D, Domes, Data and Drone Strikes report alleges that it was 'probable' that facilities at the base on the outskirts of Harrogate were used to target the US drone strike that killed Iranian general Qasem Soleimani in 2020.
The controversial base has long been the target of peace campaigners with Quakers regularly holding vigils outside (see photo).
Written by journalist Barnaby Pace on behalf of Yorkshire CND and Menwith Hill Accountability Campaign, the 15,000-word report says: 'The involvement of the UK and Menwith Hill in an assassination that threatened to spark a war should be of great concern.'
Other allegations are that the base contributes to illegal wars, such as Iraq, and programmes in covert missions outside war zones in Yemen, Somalia, Pakistan and Lebanon.
The report reveals ways in which electronic surveillance has developed at Menwith Hill and says that UK and US intelligence services use the base's immense data-gathering capabilities 'to spy on leaders of allied nations, aid agencies and vast swathes of the population'. It also calls into question the legality of its operations.
Paul Rogers, emeritus professor of Peace Studies at Bradford University, said: 'This is an impressive and authoritative report, backed up by detailed references. It covers a wide field of activity at Menwith Hill and is particularly useful in highlighting its role in the move towards remote warfare, especially the proliferation and use of armed drones. These raise many issues of transparency, accountability, and democratic oversight, and challenging the implications of this trend will be made more effective by this valuable study.'
Funded by the Joseph Rowntree Charitable Trust, the report seeks to update informationin the light of leaked documents from whistleblower Edward Snowden that identified the base as providing intelligence for 'a significant number' of operations to 'eliminate' targets in the Middle East. These include operations to target terrorists in Yemen through controversial drone bombing campaigns that have also killed civilians.
Alex Sobel, Labour MP for Leeds North-West, asked the government whether Menwith Hill had a role in the killing of Soleimani.
A government minister said: 'In accordance with long-standing policy we do not comment on the details of the operations carried out at RAF Menwith Hill in providing intelligence support.'
You need to login to read subscriber-only content and/or comment on articles.