Manchester Quakers commit to BLM review
Banner posted outside Meeting house as first action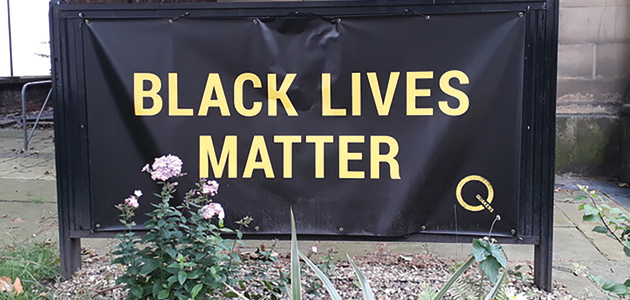 Central Manchester Friends have pledged to develop an anti-racism programme in response to the Black Lives Matter (BLM) movement.
Penelope Gouk from the Meeting told the Friend: 'Like so many others, Central Manchester Quakers have been inspired by the international movement. This energy has prompted us to reaffirm our commitment to anti-racism by embarking on a programme of learning and activities that will help us challenge institutionalised racism wherever it is found.'
The Meeting's' first action has been to have a BLM banner made, now posted outside the Meeting house. Penelope Gouk said: 'It has already been provoking both positive and negative reactions from passers-by. Meanwhile, elders and overseers have circulated an extensive resource/action list, which they hope will be added to by Friends and circulated freely within our meeting.'
In a minute from its local Meeting for Worship for Business, the Meeting recognised 'the need for an audit (both institutional and personal) of our own practices and language, including for example the potential hurt in the use of the term "overseer".' It also asked elders to investigate study options to 'help us learn and grow'.
The minute said: 'We have heard how, for many, racism is "normal", a darkness and absence of light within us, a mindset that is of advantage to some. We are reminded that change is incremental and needs to begin with self-awareness…We can contribute to making reparation for the exploitation of slave labour to build our wealth, through placing continued pressure on our government to support those countries we exploited, and through preparation for climate change.'
You need to login to read subscriber-only content and/or comment on articles.