'I find great comfort in describing myself as a Quaker-shaped Christian.'
The God of broad places: Mark Russ offers his personal, Christian approach to nontheism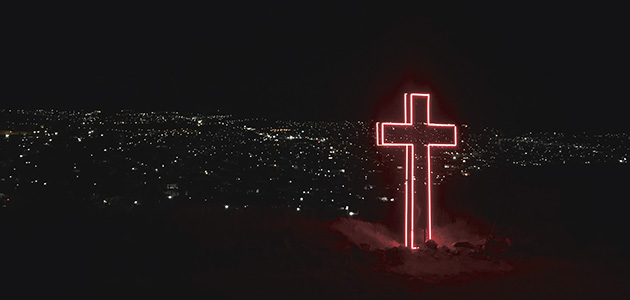 It's not often that I get to share my beliefs with other Friends. The chat over tea and biscuits after Meeting for Worship doesn't usually lead to a sharing of our most deeply and dearly held truths. In my work as a tutor at Woodbrooke, I'm more often than not helping to create a space for others to share their beliefs, and so I generally keep mine to myself. Especially the more unusual ones! I've also found that, when I do share my beliefs, Quakers get surprised, uncomfortable and suspicious. My beliefs have even made some question whether I'm a proper Quaker.
So, what are these beliefs? Well, I identify as Christian. I'm happy claiming that Jesus is 'Lord' and 'the Son of God' and that God is the maker of heaven and earth. Every year I fall more in love with Mary the mother of Jesus, and get increasingly excited about the virgin birth. I believe that Jesus rose from the dead, and I find hope in the resurrection of the dead and God's judgment. I'm open to talk of the angelic and demonic. I'm also very happy talking about God in trinitarian terms.
When you hear that I believe these things, you might make certain assumptions about me – that I'm an evangelical Christian, that I also believe in hell or an angry God, or that I approach the Bible in a literalist way. You'd need to have a conversation with me to find about whether these things are true or not. You might also think I'd be happier in another church. I've sometimes wondered that myself. The truth is I'm called to be both Christian and Quaker, and I find great comfort in describing myself as a Quaker-shaped Christian. I make sense of life through inhabiting the Jesus story, and I see the Jesus story through a Quaker lens.
I've found being a Quaker-shaped Christian requires a 'patchwork' approach to my religious life. Being a Christian, I find it important to spend time with others for whom Jesus is central. I'm part of an ecumenical house group, occasionally visit cathedrals, go to Franciscan monasteries on retreats, and follow lots of Christian theologians on Twitter. But I'm also Quaker-shaped. I 'speak Quaker'. I feel at home in Quaker settings. I've had a lot of practice at Quaker discernment. I know what it feels like to be called to give vocal ministry. I'm inspired by the insights of our Quaker ancestors, I value the progressive nature of the contemporary British Quaker community, and I'm thankful for the many wonderful Friends who have come into my life. There's no other church I want to be a part of. I'm a Quaker-shaped Christian.
Knowing this about me, you might assume I'm less than happy about being part of a community that includes nontheists. I can confidently say that this is not the case. This is because my understanding of Quakerism is a spacious one, and there's room for nontheism within it. A characteristic of the God I worship is spaciousness. Within Judaism, one name for God is HaMakom, meaning 'the Place', suggesting infinite spaciousness. God is the liberating space within which 'we live and move and have our being' (Acts 17:28). The Old Testament repeatedly speaks of God bringing people into a 'broad place' (for example, in Psalm 118), symbolising freedom. Broad places are spaces where people can breathe, live and thrive. The God of Jesus is a God of broad places.
More specifically, the space for nontheism within my Quaker-shaped Christianity is found in valuing right action (orthopraxy) over right belief (orthodoxy). For the first Friends, your behaviour revealed what your beliefs were. They believed you weren't in right relationship with God (also called being 'justified') unless you were living a Spirit-empowered 'holy' life (also called being 'sanctified'). You couldn't claim one without the other. They read in the Bible that faith without works is dead (James 2:17), and that a tree is known by its fruits (Luke 6:44). Jesus said: 'Not everyone who says to me, "Lord, Lord," will enter the kingdom of heaven, but only the one who does the will of my Father in heaven' (Matthew 7:21). When the Psalmist says that 'Fools say in their hearts, "There is no God"', the evidence of their foolish unbelief is their 'abominable deeds' (Psalm 14:1), not the words they use to describe their religious understanding. The black theologian Anthony Reddie writes that 'placing orthodoxy before praxis has always been a fool's errand' because holding 'orthodox' views of the trinity was not enough to stop white Christians enslaving black people. My Quaker Christianity teaches me that the lives we try to live are more significant than the beliefs we individually hold. If I had to choose, I'd rather be in a community of people attempting to live lives empowered by the spirit of liberation than a community who all confess the same thing.
This isn't to say that our beliefs don't matter. Thinking critically about our beliefs is important. For example, saying that our actions mean more than our beliefs has its problems. It might lead us to a place of extreme self-righteousness, claiming that only people who live up to certain behavioural standards are 'real' Quakers. It could also lead us to a place of self-hatred when we don't live up to 'Quakerly' standards. A big part of my ministry is telling people that we're all part of God's good creation, and that God loves us, regardless of what we've done or do. An important part of the Quaker message is our inherent worth – the number of people in the world who don't love themselves demands that we share this message widely.
I also don't want to minimise the challenges of being part of a community with diverse theological views. We have to be free to use the religious language that works for us, and allow others to use what works for them. We also need a shared language, so that we can communicate with each other, and have a shared understanding of what Quakerism is. Spending time learning how to talk to one another is the price we pay for theological diversity. Rhiannon Grant has done invaluable work on this, and her book Telling the Truth About God should be widely read among Friends.
The point I'm trying to make is that it's possible to be a Quaker who believes in God – specifically the Creator God revealed in Jesus – and hold an understanding of Quakerism that sees nontheist Quakers as equal conversation partners, as fellow Friends, not people on the fringe to be reluctantly tolerated or treated as a threat. I came to Friends from a non-religious background, not knowing what I believed. It was the spaciousness of Quakerism that enabled me to become a Christian. I still value this spaciousness, seeing it as reflecting the God of broad places, a Divine spaciousness broad enough to encompass all manner of people who have set their hearts on a peaceful and just world, whether they believe in God or not.
You need to login to read subscriber-only content and/or comment on articles.