Friends rally round for 'Stansted Fifteen'
A Quaker activist on trial for stopping an immigration removal charter flight has thanked Chelmsford Meeting for all its support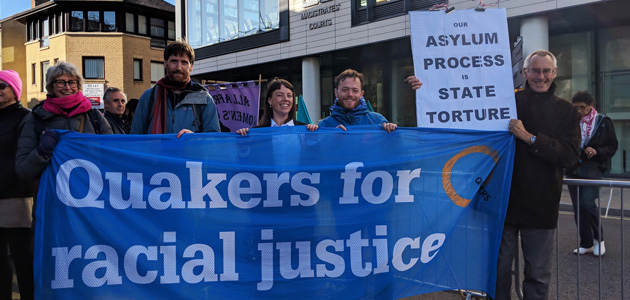 A Quaker activist on trial for stopping an immigration removal charter flight has thanked Chelmsford Meeting for all its support.
Lyndsay Burtonshaw, an attender at Brighton Meeting, is one of the 'Stansted Fifteen' protestors on trial for terror offences after the group locked themselves together around the Boeing 767, chartered by the Home Office, that was deporting people to Nigeria, Ghana and Sierra Leone on 28 March.
The activists were all members of the group 'End Deportations' and displayed banners during their protest saying 'mass deportations kill'.
Lyndsay Burtonshaw told the Friend: 'Chelmsford Quaker community has been a beacon of stability and support as we go into trial, with myself and four others on trial being hosted by local Quakers. In the face of terrorism-related charges and potentially a long prison sentence, the Quaker community has given our group so much strength and centredness.'
Jean Wardrop, from Chelmsford Meeting, told the Friend: 'We're a Sanctuary Meeting and against forced deportation and detention, which is what these demonstrations were about. The Meeting house is close to Chelmsford crown court, where they are on trial, so we've become a hub. We've also supported them spiritually with Meetings for Worship, and Friends have come from Bristol, Oxford and Reading to get involved.'
Amnesty International UK has expressed concern about the charges, saying it is like 'using a sledgehammer to crack a nut'. Jean Wardrop echoed these concerns. She said: 'We're quietly enraged about these unbelievable charges. Apparently, it is the first time they have been used in this way. They're just trying to set an example. This was a peaceful demonstration, no-one was hurt.'
The defendants, aged twenty-seven to forty-four, have been charged with intentional disruption of services at an aerodrome under the 1990 Aviation and Maritime Security Act, a law passed in response to the 1988 Lockerbie bombing. The defendants have all pleaded not guilty. If convicted, they could face potential life imprisonment. The trial, which started on 1 October, is due to last six to eight weeks.
Lyndsay Burtonshaw was upheld at Meeting for Sufferings on 6 October.
You need to login to read subscriber-only content and/or comment on articles.