Friends in Italy fight landslides
'The day that BYM ended, after years of record drought, our region of Emilia-Romagna began to receive massive rainfall that reached almost three-quarters of our annual total by May 17.'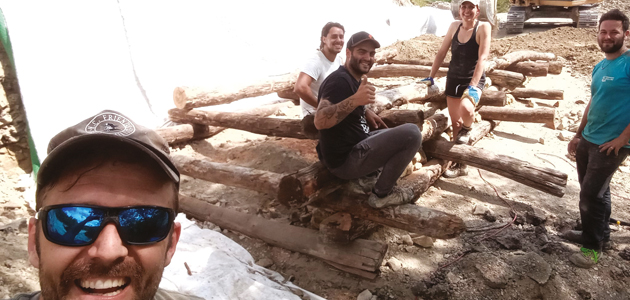 Two Quaker farmers are raising funds to counter damage caused by devastating, climate-related floods.
Evan Welkin, who works at Friends World Committee for Consultation (FWCC) Europe and Middle East Section (EMES), and Federica Faggioli, started the fundraising initiative after the landslides took out the public road that they and other farms and families rely on.
The Friends run Borgo Basino, a permaculture-based farm and ecovillage near Bologna and Florence in Italy. In recent years, the farm has hosted the all-Italian Quaker gathering and Quaker Voluntary Action events.
Evan Welkin told the Friend that the crisis started after he had attended Yearly Meeting last month. 'The day that BYM ended, after years of record drought, our region of Emilia-Romagna began to receive massive rainfall that reached almost three-quarters of our annual total by May 17. On the night of May 18, our road began to wash away, another major landslide swept away a large swath of our field and animal stall, and the river below us broke its banks to sweep houses, animals and several people's lives away. We are blessed that we, our animals and our home are all safe, but, like so many other places around the world feeling the brunt of the climate emergency, our region has experienced catastrophic damage. Our main priority now is our road, and others like it. Even though there is a massive mobilisation to rebuild right now, the public road that connects our farm to the village… will likely take months or even a year to be reconstructed.
'We cannot wait that long, and have organised as neighbours to begin reconstruction using our own rented equipment, materials and sweat. We are still getting clear on the final costs of the project, but it will take tens of thousands of euro.'
The destruction hit just days before a new study highlighted other extreme weather risks caused by the climate crisis. Global heating will drive billions of people out of the 'climate niche' in which humanity has flourished for millennia, exposing them to unprecedented temperatures and extreme weather, said a new study in the scientific journal Nature Sustainability.
Climate change has already put nine per cent of people (around 600 million) outside this niche, say the authors. 'By end-of-century (2080-2100), current policies leading to around 2.7 °C global warming could leave one-third (22-39%) of people outside the niche.'
Up to one billion people could choose to migrate to cooler places, the scientists added. But reducing global warming from 2.7 to 1.5 °C would result 'in a five-fold decrease in the population exposed to unprecedented heat'.
You need to login to read subscriber-only content and/or comment on articles.