Friends from Europe and the Middle East meet in Bonn
Harry Albright interviews Cédric Krummes on his experience of the annual meeting of the FWCC's Europe and Middle East Section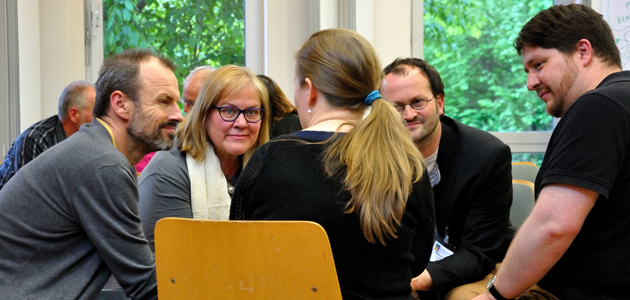 The Annual Meeting of the Friends World Committee for Consultation (FWCC) Europe and Middle East Section (EMES) took place in Bonn from 4 to 7 May, exploring the theme of 'Vibrant Meetings, Vibrant Section'.
Cédric Krummes, who has just started work as the organisational assistant for both the FWCC and EMES offices, reflected on his experience of the meeting in an interview with the Friend.
'This was my first meeting that wasn't a Local Meeting,' he said, adding that he was 'transported from the local to the continental and global'.
He found Friends at the meeting very supportive. 'There was definitely a camaraderie. There was a lot of touching, which doesn't happen as much in the academic conference background I come from.
'People worshipped more deeply than I had expected. People don't worship at these meetings in quite the same way they do back home. There is already a diversity in Europe, which I think many British Friends don't realise.'
He added that he found business meetings to be deep and moving. 'We really took our time to listen to each other. We heard powerful ministry, which I hadn't anticipated.' Business was conducted in English, and Friends were also asked to be mindful that this was not the first or even second language for many. 'It felt accommodating,' he said.
One moment of deep discernment was around responding to an open letter from the Conference of European Churches (CEC) on the future of Europe. A concern was expressed about some Christocentric language in the proposed draft. Marisa Johnson, EMES executive secretary, gave the context of the response (available at fwccemes.org), which had gone through many drafts and had not been 'written on the back of an envelope'. Echoing ministry given at Britain Yearly Meeting in 2009, when equal marriage was being considered, a Friend said that the issue was 'too important to ignore', and that European Friends should make a corporate response.
Cédric Krummes said there was profound discernment, which was very moving, and the meeting then united on the text. 'We needed to write for a specific audience that is very familiar with theology and the Scriptures,' he noted.
Other items of business included consideration of the work on human rights, peacebuilding and climate change at the Quaker United Nations Office in Geneva, and a report on the development of a regional Meeting in central Europe.
The meeting also considered ways to encourage applications to the Small Grants Fund, which EMES administers on behalf of the Joseph Rowntree Charitable Trust. The aims of the fund are to strengthen Quakers' shared identity and Quaker connections, and bring Quaker values to the wider community. Conflict resolution and effective intervisitation were also discussed.
Cédric Krummes said that while the business was central to the gathering, he also enjoyed connecting with Friends from around Europe and the Middle East in other ways. He described a discussion with a group of Friends about what is on the table during Meeting for Worship, and he was surprised by the variety of comments. 'You always assume things are normal where you are. Connecting with Friends on that level is important too. It's quite nice to know that there is a family of Friends beyond your Local and even Yearly Meeting. That is definitely worth exploring.'
You need to login to read subscriber-only content and/or comment on articles.