Friends flock for Extinction Rebellion protest
Friends joined others in the Extinction Rebellion protests in London, have held Meetings for Worship and discerned a minute at Marble Arch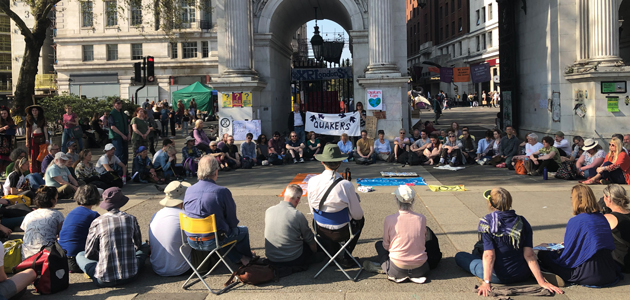 Quakers were among the thousands who took part in the Extinction Rebellion (XR) protest last week, which organisers described as the biggest civil disobedience on record.
Friends from Meetings that included Kingsbridge, Bristol, Huddersfield and Bath put their faith into action as they joined protests at four major London landmarks: Marble Arch, Oxford Circus, Waterloo Bridge and Parliament Square.
Some Quakers also organised Meetings for Worship. 130 Friends took part in a Meeting for Worship on 19 April, aged from four to eighty-four years old, while sixty gathered for worship on Easter Sunday on 21 April at Marble Arch.
Linda Murgatroyd, who helped organise the Meetings, told the Friend: 'I came down to the protests earlier in the week and ran into a Friend from Dorking Meeting. We wondered what else we could do as Quakers… A Meeting seemed like the obvious thing. We asked someone with a big social media profile to spread the word, and here we are!'
Gill Sewell, who eldered one of the Meetings, told the Friend that it had a 'lovely atmosphere'. She said: 'It was nice to see people passing by and taking an interest. I think we've just done a significant piece of outreach, too.'
Another elder, Clare Scott Booth, imminent Yearly Meeting clerk, said she found the Meeting 'moving, still and gathered. The sounds drifting in added to it all, I think.' She said that she didn't feel led to get arrested but 'I did feel like this was a good exercise of my Quaker responsibility for the planet. It's very important for us to be here.'
Other Friends spoke about the demonstrations, which by 10am on 22 April had resulted in more than 1,000 people being arrested. Activists were cleared from Waterloo Bridge, Oxford Street and Parliament Square on Sunday and moved to Marble Arch, where they had been given permission to gather.
James Priestman, from Ealing Meeting, said he was an XR steward on Oxford Street when the pink boat arrived. 'I've slept out here a couple a nights… It's been a fantastic experience, and friendly: the behaviour of people at Oxford Circus is really impressive. We've been asking people not to drink or take drugs… there's been no opportunity for people to take photographs and insinuate that it was a riot.'
A number of Quakers were arrested, including Ruth Leonard-Williams, from Ashuburton Meeting. She told the Friend: 'There's a really beautiful intention to be deeply peaceful and non-confrontational.' Even when she was arrested, she said there 'were no bad feelings with the police. People are trying to retain that peaceful way of being. Some of it is quite spiritually profound. When I knew I was going to be arrested, I was trembling. I felt a great connection with whatever you want to call it: Spirit, the light, love. I felt really liberated – being able to put my body on the line for something I have put my life into.'
Some Friends, however, shared doubt about some of the methods used. Writing on the Extinction Rebellion Quakers Facebook page, Alistair Cameron said he was concerned about targeting public transport. He said: 'People using public transport are our friends! I loved the action to disrupt the fossil fuel dinner at the Museum of Scotland a few weeks ago. That hits the right spot. We should be demonstrating our support for public transport, not messing it up.'
Quakers also shared a minute agreed at the Marble Arch Meeting on Easter Sunday. It said attenders were 'called here in a spirit of Peace, Love and Truth to bear witness to the pain of our planet'. The minute said: 'Those children being born into the world today face a world of catastrophe, social collapse and mass extinction' and 'This is not our world to burn. "Where were you when I laid the Foundations of the Earth?" (Job 38:4). Where shall we be if we render it uninhabitable through greed and recklessness? This heedless destruction of the natural world must be halted.'
Linda Murgatroyd said: 'There was some discussion about the purpose of the minute, and some Friends were concerned that it did not explicitly state support for the three XR demands. Others thought that was implicit.'
You need to login to read subscriber-only content and/or comment on articles.