Friends celebrate Earth Day 2020
Friends mark Earth Day 2020 in a range of online gatherings and statements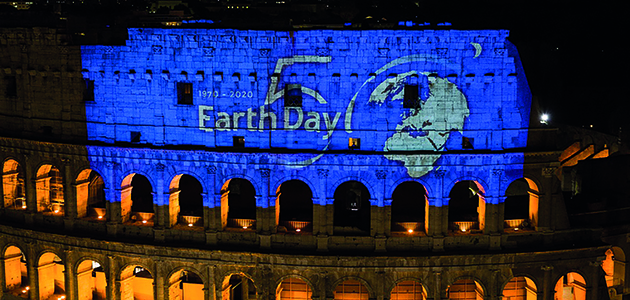 Quakers across the world celebrated Earth Day 2020 last week, which this year marked its fiftieth anniversary.
Central England Quakers (CEQ) joined three other groups to hold an online gathering for the day, focusing on how cities are responding to the climate emergency. The interfaith event 'Our Cities and Climate' on 22 April was organised by Footsteps (Faiths for a Low Carbon Future), CEQ, Climate Action Network West Midlands (CANWM) and Jai Jagat 2020.
Cotteridge Meeting member Chris Martin, from CANWM, told the Friend that around 200 people registered to take part, so it was 'quite a learning experience'. The two-hour gathering included guided meditation, music and sessions on 'cities taking the lead', and Birmingham's climate declaration. There were also reflections from an activist in Zimbabwe and, according to Chris Martin, 'some very good original material and a video just completed of the Jai Jagat walk, from India to Geneva, that had to be paused in Armenia due to Covid'.
As campaigners issued statements and found ways to support the day despite the restrictions from worldwide lockdowns, the Earth Day Network launched what Friends World Committee for Consultation (FWCC) described as 'an ambitious set of goals to shape the future of twenty-first century environmentalism'.
There was also an online event called 'Earth Day Live' live-streamed across the world. Elsewhere, Eco-Congregation Ireland, of which Quakers are a member, sent out a 'Climate Blessing' prayer beginning: 'Today we hold the Earth.'
Meanwhile, a group of interfaith organisations working on climate negotiations that were supposed to take place at the cancelled COP26 in Glasgow, put out a statement that staff at Quaker United Nations Office helped to write. The statement, signed by FWCC, called for 'ambitious and urgent climate action not to be delayed'. It said the 'extraordinary amounts of money' pledged by governments to 'prevent economic disasters because of this pandemic… must not be used to finance future environmental degradation. We must not return to relaunching fossil fuel subsidies and unhealthy consumption patterns'.
Kathleen Rogers, president of Earth Day Network, said: 'Amid the recent outbreak, we encourage people to rise up but to do so safely and responsibly – in many cases, that means using our voices to drive action online rather than in person.'
You need to login to read subscriber-only content and/or comment on articles.