From A touching thank you to Joyful service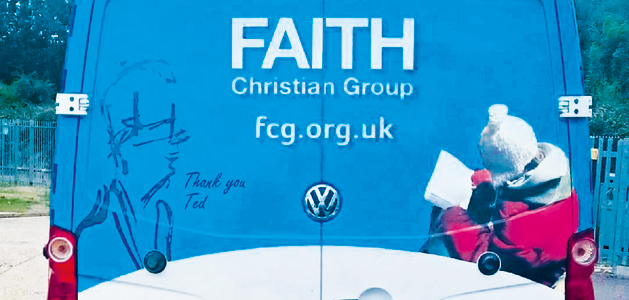 A touching thank you
Jean Scott-Barr, of Reading Meeting, shared a heartwarming tale of a Friend's bequest with Eye.
She writes: 'Many Friends knew, or knew of, Ted Milligan. He died in 2020 at age ninety-eight.'
Edward H (Ted) Milligan, among numerous Quaker connections, was librarian at Friends House for nearly thirty years and widely published on Quaker matters.
Jean shares that: 'In his will he left, among other bequests, £25,000 to Faith Christian Group in Reading. This is the group that runs the "Readifood" food bank as well as "Bed for the Night", offering shelter to street homeless people in the depth of winter. They also have a van that goes out to provide food and hot drinks to homeless people.
'Faith Christian Group were so thrilled with the bequest that they used it to buy a new van for the nightly food run.
'When they bought the van they arranged for it to have their logo and other details on it. I was asked for advice on how they could acknowledge that it was because of Ted's bequest.
'I have a pen and ink drawing of Ted and offered to lend it to them to copy his image onto the van. I was also asked what they might write to acknowledge the gift. I said it must just be something very simple, such as "Thank you Ted".'
And here is the result Friends! (see above).
Channelled through songs
There are kind-hearted Quakers in Wales
Who will visit offenders in jails.
All those prisoners' wrongs
Will be channelled through songs,
Any other way punishment fails.
Alec Davison
You need to login to read subscriber-only content and/or comment on articles.