'But there was another aspect to Pendle Hill, beyond its personal challenge.'
Thought for the week: Alison Leonard has a high old time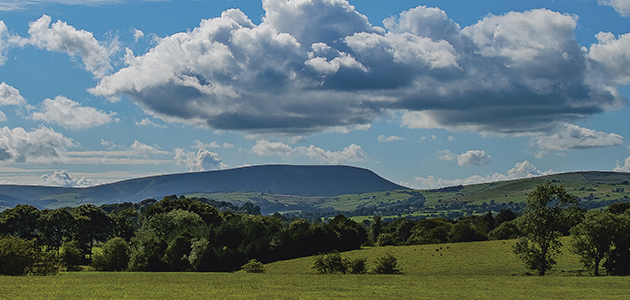 Let's be honest, Pendle Hill is one of the most boring hills to climb. For me, reared on the topography of the Lake District, this stony diagonal slope was tough. There's not a knoll (a small rocky outcrop to you non-Cumbrians) to relieve the uphill struggle, nor is there a rushing ghyll (waterfall) to please the eye. There is no bench in memory of someone's grandmother. But, fifty years a Quaker, here was my chance to stand as a pilgrim on the fabled peak. I should have taken heed of George Fox: 'I spied a great high hill… I went on the top of it with much ado, it was so steep…' So steep, in fact, that I called for my Quaker group to release me. I needed to go back down and rest my legs in the local pub. Sorry, Friends. At any rate my lager was alcohol-free.
So my romantic notion of a pilgrimage was subverted. But there was another aspect to Pendle Hill, beyond its personal challenge. It turned out that everyone we met wanted to talk, and most of them knew something about George Fox. He was a Quaker, they said. He climbed up here in the year 16-something. It was the beginning of… can't quite remember…
When we said we were Quakers, they looked at us hopefully. Could we tell them about 'the Quaker thing'? Indeed we could. George Fox was searching for the meaning of life; he hoped the clergy might tell him, but they couldn't; he was in despair and climbed Pendle Hill; and there he realised that many, many people longed for a gospel of love, truth, simplicity, equality and peace. 'That's great!' was the response, from all sorts of people: a group of primary children and their teachers, a Canadian tourist, an elderly Pakistani Muslim and his son, a humanist in the car park.
Reflecting on this a week later, while sitting round a campfire with local Extinction rebels as they related their experiences of rebellion in London, I pondered the nature of the 'Quaker thing' in Britain.
Quakers are rooted in the British way of life. We are recognised, and in many ways accepted, in mainstream society. Not for nothing are Quakers used to advertise foodstuffs like cocoa and porridge. It's no accident that Friends founded many of the banks still used today. They – we – are a trusted thread in the web of how things work.
But we are also part of another web. It's the one that goes deeper: deep into the conscience, deep into the soul, deep into the earth. It says: 'Respect the laws of the state but let your first loyalty be to God's purposes' (Advices & queries 35). It says: 'We live answerable to the design of our creation' (Quaker faith & practice 20.32). It says: 'Try to live simply… We do not own the world' (Advices & queries 41-42). Even if this places you, as Abigail Maxwell said in the Friend recently, 'in Heaven and Hell simultaneously', we must live adventurously.
You need to login to read subscriber-only content and/or comment on articles.