Britain Yearly Meeting: Children and Young People
Worship with the Children's Programme and 'Faith and Play'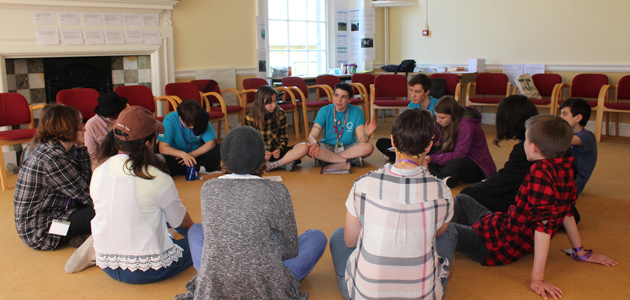 Faith and Play storytelling
The use of storytelling to help children – and adults – find words and images to express experiences of mystery and wonder was the subject of a stimulating interest group on Saturday lunchtime.
Melinda Wenner Bradley, youth engagement officer with Philadelphia Yearly Meeting, said that the 'Godly Play' initiative was the basis for the approach she and others were doing among Friends in America.
The 'Godly Play' method, she explained, had opened up opportunities to use 'Faith and Play' stories of Quakerism in Friends' Meetings.
Sitting on the floor and using simple objects, such as wooden figures and cloth, she told a story using these techniques and explained some of the key principles involved.
Melinda Wenner Bradley said 'Faith and Play' was 'a way of building spiritual community with children' and she ended a well-received session by stressing the value of storytelling and encouraging British Friends to take up the initiative.
You need to login to read subscriber-only content and/or comment on articles.