Blue plaque for Ada Salter
'As a champion of environmentalism and the welfare of others, Ada was a force to be reckoned with.' Judi Dench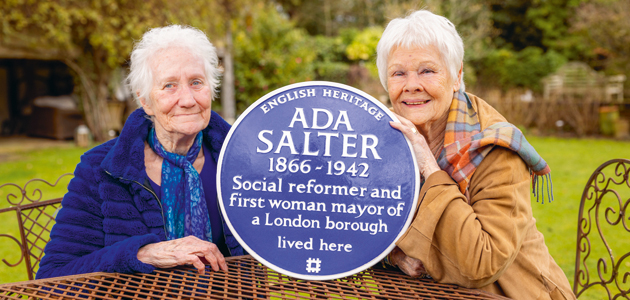 English Heritage has installed a blue plaque for the Quaker social reformer Ada Salter. The news was announced on 8 March to coincide with International Women's Day.
Sheila Taylor, who worked on the centenary celebrations for Ada Salter last year, told the Friend: 'It's worked out brilliantly; we were in touch with English Heritage last year, to see if the plaque was going through but then we heard nothing. It ties in with the centenary events last year, which have spilled over into this year with a play on at the Southwark Playhouse.'
The announcement was made with a photo of Judi Dench, who has been patron of the 2022 Salter Centenary celebrations. Judi Dench said: 'As a champion of environmentalism and the welfare of others, Ada was a force to be reckoned with. We have so much to thank her for and so much that we can still learn from her. I'm delighted to help bring this heroic woman into the public eye.'
Sheila Taylor said: 'Judi couldn't travel to London to be photographed with the plaque, so they took it down to her home in Surrey and photographed her in her garden. As you know, she's a Quaker, and she's also a passionate environmentalist, so particularly identifies with the way Ada brought trees and flowers into the inner-city slums. When we were campaigning for the statute for Ada, I wrote to Judi Dench and she sent us £1,000.'
Having Judi Dench as their patron provided 'a lovely surprise' for those involved, said Sheila. 'When I told her about artists Nigel Moyce, Eugene Ankomah and Salmon Youth Centre students contributing to an art exhibition, Compass School making a film, and the People's Company producing a play, Judi sent them all a personal letter of thanks. You can imagine how thrilled they were!'
You need to login to read subscriber-only content and/or comment on articles.