Meetings around the country pledged to tackle racism and look deep within themselves to understand its roots.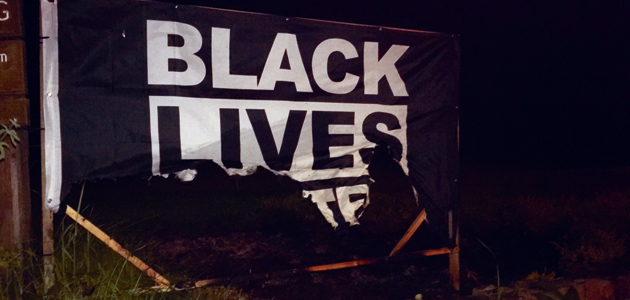 2020 was also marked by the Black Lives Matter (BLM) movement, which swept the world following the death of George Floyd in the US. The Quaker organisation American Friends Service Committee (AFSC) condemned the police violence surrounding the killing, branding it 'the consequence of a racist system that disproportionately targets people of colour for violence, imprisonment, and premature death'.
As people gathered to protest, the BLM movement led to deep reflection over systemic racism within the Society. Quakers joined socially-distanced protests with one Friend from St Neots Meeting sparking a rally for racial justice after a session on lockdown activism prompted her to get down on one knee. Other Meetings, including Clun Valley, held short demonstrations, while Melanie Jameson, co-clerk of Quakers in Criminal Justice, spoke out at a BLM rally in Malvern about her experience of being a prison tutor in rural Suffolk in the mid-1980s, where half of the population was black. Woodbridge Quakers sent a 'statement of solidarity' in July to the organisers of a local BLM protest after white supremacist graffiti was found in nearby villages and BLM posters were removed. Disley Meeting had its BLM banner set on fire (see photo above), and, in August, Central Edinburgh Meeting House hosted artwork in support of BLM.
Meetings around the country pledged to tackle racism and look deep within themselves to understand its roots, with Central Manchester Friends committing to an anti-racism programme. In July, the US group Friends of Color released an epistle calling on Quakers to heed its 'Call to Action' on the racial pandemic. 'To our Friends in the wider Quaker world, we the Friends of Color, can't breathe,' said the outgoing epistle of the 2020 virtual pre-gathering of Friends of Color and their families. 'Friends of Color need respite from the systemic racism too often found in our American Quaker community that often goes unseen by many white Friends.'
The year ended with Britain Yearly Meeting (BYM) pledging that Quakers must tackle racism, saying that 'racism exists among Quakers in Britain and must be tackled at all levels, individually, in their committees and structures and in the church'.
'Although Quaker commitment to racial equality and racial justice is well recorded, there has been little focus on this in recent years and some language (in minutes and other writings) is outdated,' BYM trustees said in a statement.
You need to login to read subscriber-only content and/or comment on articles.