Birmingham Friends install poppy mosaics
'The mosaic was designed by Quaker ceramicist Caroline Jariwala who created it in 2018 for a touring display.'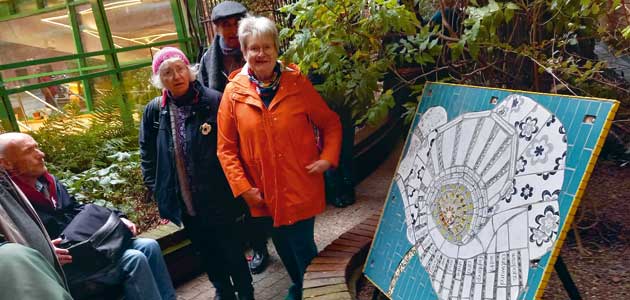 Three peace poppy ceramic mosaics were placed permanently in a Quaker garden in Birmingham to mark Remembrance. Twenty-five Quakers met for a Meeting for Worship on 5 November to celebrate the event in the garden at Bull Street Meeting. This permanent placement was coordinated by Peter Doubtfire. The mosaic was designed by Quaker ceramicist Caroline Jariwala who created it in 2018 for a touring display.
Kathy Khurana, from the Meeting, ministered about 'a legacy from Pamela Williams who was passionate about peace work'. Peter Doubtfire ministered about the history of white poppies, which were first proposed in 1926 by a member of the No More War Movement. According to the PPU, its newly-designed white poppies featured in both official and alternative UK ceremonies to mark Remembrance Sunday. For the first time, a mixed wreath of red and white poppies was laid by Paula O'Rourke, the lord mayor of Bristol, at the city's Remembrance Sunday ceremony. Leicester University and Aberystwyth Council were among the other public bodies to include white poppy wreaths in their ceremonies.
You need to login to read subscriber-only content and/or comment on articles.