'Art the Arms Fair' are 'New Radicals'
'Art the Arms Fair' is awarded the 'New Radicals' award by NESTA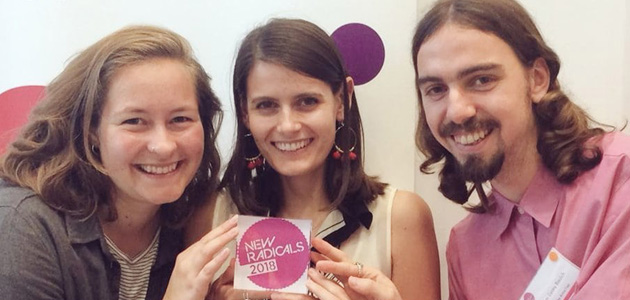 The launch of the next 'Art the Arms Fair' exhibition got off to a good start last week as it celebrated its 'New Radicals' award.
The fair was named one of the fifty 'New Radical' social enterprises recognised by The Observer and innovation charity NESTA, which are 'actively changing their communities for the better'.
Quaker Rhianna Louise, from Wanstead Meeting and one of the organisers of Art the Arms Fair, told the Friend: 'We're extremely happy about the award. The hope and positivity really resonate with us as our approach is all about using art to engage in a creative discussion about the arms trade, while having a fun and inspiring time.'
She added that she hopes the art fair will 'raises awareness'. She said: 'Research shows that only ten per cent of Londoners know that the largest arms fair in the world takes place in the city every two years. The [art] fair is so open and focused on creativity that it's a great way to get more people involved. We just want to let the art speak.'
One of the artists contributing to the exhibition, Darren Cullen, created a satirical advertisement that appeared in Trafalgar Square on 10 September, a year to the day before the Defence and Security Equipment International (DSEI) Arms Fair takes place at the ExCeL Centre.
The advertisement, called 'Bang! and the World is Gone!' satirises a laundry detergent advert, but for nuclear weapons.
The week-long event in 2017 was part of a two-week protest against the ExCeL centre arms fair in East London, where more than 100 people were arrested. The artist Banksy donated an original piece of artwork that raised £205,000. It was split between Reprieve, the human rights group, and Campaign Against Arms Trade (CAAT).
You need to login to read subscriber-only content and/or comment on articles.