Open for transformation: being a Quaker
31 Jul 2014 | by Ian Kirk-Smith
Ben Pink Dandelion, the 2014 Swarthmore lecturer, talks with Ian Kirk-Smith, editor of The Friend.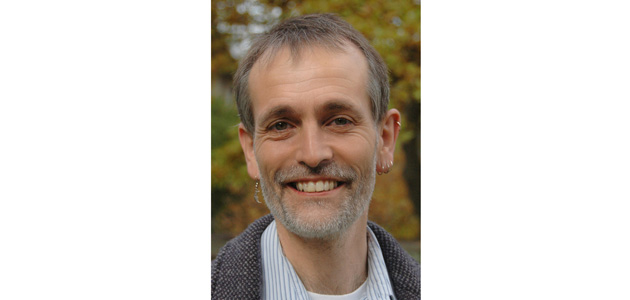 Ben, could you tell me about your background?
My mother and father were very strict atheists. They also believed in private education. When we moved north, when I was eleven, they had to choose between a Catholic school and the Quaker one at Wigton, and they chose the Quaker one because they felt it would be less religious. They felt it would do me 'the least harm'. The plan backfired horribly!
Later, I went to college and got very involved in left wing politics. I dropped out and went to live at an anarchist peace camp. That was when I changed my name, to protest against the tradition of always passing on the name of the father. It was about the only thing we could all agree to do together (being anarchists!) We all chose silly names so it was obvious they had been changed. After a while, I concluded that there wasn't going to be a revolution in England. I trained as a chauffeur, but also remembered the Quakers and their peace witness, that they had no leaders and no votes, just like my anarchist group. I was drawn back to them.
Were there any early defining experiences for you?
Yes. I joined Quakers after six months of attending. I think it may have been a bit premature. I was still an agnostic and mainly attracted by the activism. I got a bursary to study in Pennsylvania in America – in Haverford and Swarthmore – and got a wonderful grounding in Quaker history and theology. While there I travelled across the States and on the way back found myself in Denver on a schedule that would miss my flight home from New York. I had to get a new ticket for a different bus to get to my plane on time but did not have enough money for one. I begged around the bus station and, eventually, a man helped me out. I gave him as much as I could as a sign of my goodwill and he paid the rest. I fasted for the three days it took to get to New York. It was on that journey that I had a great sense of being lifted up and held by what I call 'God'. Totally unexpected and unbidden, I felt 'this is real'. I have lived an accompanied life ever since. Quakerism, after that, made a lot more sense to me. Morning worship and Business Meetings came alive.
You chose to pursue a career in the academic world – particularly focusing on Quaker history, theology and sociology. Why?
It has come out of a personal interest. I went back to college and it was natural for me, when I came to do a PhD, to choose modern British Quakerism as a topic. I really enjoyed study.
You have pioneered, with others, Quaker Studies as an academic subject. Why is it important?
I think it is important because it has been under-researched. It has a distinctive history, theology and sociology. It is part of the study of religion. The study of Methodism, for example, had already established itself on the academic shelves. I felt the study of Quakerism needed to take its place beside it and other faith groups. I also feel it is important for Quakerism in that we can take that research and use it to better understand and bolster our tradition.
What do you feel about the role of Quaker Studies, and Woodbrooke, in the wider context of Quakerism?
Woodbrooke and what happens there is an integral part of British, European and world Quakerism. Nurturing the Quaker faith has always been the raison d'être of Woodbrooke. It was set up as a permanent place of learning – a place to discern and learn. It continues to fulfill this role whilst continually adapting to new needs. This October we start new online degrees in Quaker Studies and this is very exciting.
You have written many books. They seem to fall into two clear categories.
Yes. The academic, more formal, work is always by Pink Dandelion, which is legally my name, and the books written for Quakers are by Ben Pink Dandelion. The former are 'filling the gaps' on that academic bookshelf – in the history, theology and sociology of religion. Celebrating the Quaker Way and Living the Quaker Way are short devotional books, written with a different voice. They took longer to write. There is a lot more of me in them. They seem to have struck a chord for Friends and I joke that the less I write the more popular I am! So, I have written with two voices but in recent years these voices have come together more and the Swarthmore Lecture is another example of this. My recent book on the spirituality of travel, Making our Connections, also sits in this middle place.
Why would you encourage Friends to take an interest in the history of Quakerism?
I think it is important to see Quakerism as part of a constant stream that has been running for three and a half centuries and has now spread worldwide. Our tradition is our heritage and to understand Quakerism we need to understand where we come from. It is not just looking back but helping us move forward.
Could you talk about the background to your lecture: Open for transformation: being a Quaker.
The invitation was to write something that tied in with the three-year exercise in Britain Yearly Meeting on what it means to be a Quaker today. That was the brief. Where are we as a Society? It addresses three areas. Firstly, I say what I think it means to be a Quaker today. Secondly, it looks at some of the challenges facing us from beyond our Society, particularly individualism and secularisation. Thirdly, it considers where we go from here.
Ben, what, for you, is at the heart of your personal faith?
It is the sense of presence, the knowledge that I am not alone, that I do not do things in my own power and that I can be guided. Discernment is central, as is prayer.
What about Quakerism more generally?
When it comes to the Religious Society, the spiritual basis is fundamental. Everything we do is rooted in our spiritual experience and its transforming power. If we don't understand that about the Society of Friends, or at least recognise that is the Quaker tradition (even for people like me who came to Friends as an agnostic), then we are probably in the wrong place.
What was the main challenge of writing the book and preparing the lecture?
A new puppy and some food poisoning! I had set aside a month to write it. We had bought a new puppy, a Samoyed, just when I started, so I was writing in the kitchen rather than my study so we could get the puppy house trained. Our kitchen is a busy place so that wasn't easy. And I had food poisoning for two weeks out of the four. So, either I or the puppy was running out of the room, sometimes me running with the white bundle of fluff!
One of the main challenges, though, has been to say what I want to say without alienating people, in other words to communicate what I am really trying to say. I think, having been brought up an atheist, that it can be easy for me to underestimate how religious terminology can divide and the later drafts of the lecture took more account of this, so that it can, I hope, be better heard and can be of greater use to us as a Society.
Ben is the programmes leader, Centre for Postgraduate Quaker Studies, Woodbrooke Quaker Study Centre; honorary professor of Quaker Studies, University of Birmingham; and honorary research fellow, Lancaster University