Power, peace and Palestine
Jean Zaru reflected on aspects of her life and work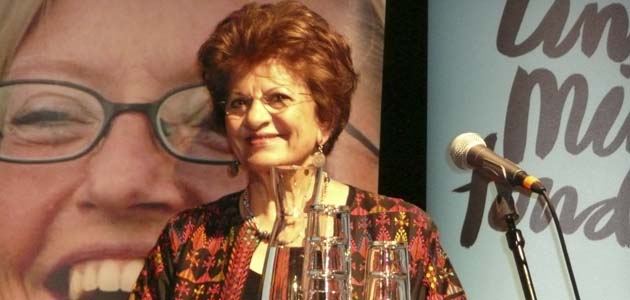 The 2010 Anna Lindh Memorial Fund award was given this year to distinguished Quaker peace activist Jean Zaru. Jean is presiding clerk of the Friends Meeting in Ramallah and has dedicated her life to work for peace, justice and a nonviolent solution in Palestine.
Described by the award committee as a 'beacon of hope', Jean Zaru reflected on aspects of her life and work in her acceptance speech in Stockholm.
Sisters and brothers, I have travelled here to share with you my personal witness to peacemaking in my land of Palestine, where to be actively engaged in the building of a culture of peace and nonviolence is to do so in a context of severe oppression, military occupation, continual displacement, and denial of basic human and community rights. Deep reflection on my life experience has served as my main source of inspiration.
Throughout my journey, I have been aware that my experience was always rooted in and filtered through my identity as a Palestinian Christian Quaker woman. My outward identity was coupled with my inward knowledge that I am a child of God. What a fundamental realisation it is – a major re-alignment of sorts – finally to honour (that of) God within me, while simultaneously honouring the light that shines in every person in the world. I have been sustained by a deeply embedded sense of equality and empowered by that equality in spite of the oppression and structures of domination I face daily, and that scream at me otherwise.
When entering this new landscape, this new way of being in the world, one is immediately washed with a sense of both humble privilege and precious responsibility. Recognising the divine in myself has led me to recognise it in all other people and creation. And, my friends, this recognition is nothing short of radical. It has left me with no alternative but to become immersed in the struggle for human rights and justice, for all and without exception. It has left me with no alternative but to explore nonviolent means of bringing forth social and political change in my community, and to being open to the truth in other faiths, nationalities, and cultures.
For more than 43 years, I have been walking that edge where the spiritual meets the political. For me, the two have always been integrated. My spirituality is rooted in the human dignity and human rights of all people, and the sacredness of Mother Earth. I feel compelled to take action to work for a world in which human freedom and dignity may flourish. Spirituality can bring life and vibrancy and imagination to my struggle, but the mixture of religion and politics has, at times, been known to fuel the most extreme and violent acts and lead to systems of horrible repression.
We are always told that nonviolence and dialogue are key to solving our problems. I do agree and have committed my life to it. However, it is absolutely necessary that we understand how violence and systems of domination function.
Structural violence is often silent. It does not easily show. Television captures the direct violence in my part of the world that is sometimes the violence of the powerless and hopeless, and then it is usually qualified as terrorism. One distinct weakness of the concept of violence in the Israeli-Palestinian conflict is the basic assumption of symmetry that views contending parties in conflict as being equal. This is absolutely false. After all, the conflict is there because of the imbalance of power between the two parties.
I have chosen to take an active part in the struggle for the liberation of my people. I have chosen to resist oppression and to do so nonviolently: for to resist is to be human.
Too often in our discourse around peace and reconciliation, the victimised are called upon to forgive and reconcile in a way that perpetuates, rather than rectifies, the root causes of injustice, alienation and division. This is certainly true in my particular context, where the word 'peace' has become an empty word for Palestinians.
We find ourselves in a similar predicament with regards to reconciliation. While reconciliation suggests a genuine change in relations, reconciliation has, unfortunately, also been given a different meaning in the Middle East. That is, namely, a collapse into the acceptance of the status quo because of the belief that nothing else can be done to effect real change.
The story of hope and protest that I share with you is a witness to the conviction that the arena of divine justice does indeed appear in human history in those who know how to challenge and resist oppressive powers without dehumanising the human being hidden behind 'the enemy'.
These small communities of hope often change directions and patterns of thought; they may affect political decisions and economic transactions. The growing networks of non-governmental organisations that cooperate across the globe are an encouraging sign. They are critical to providing alternative views to the mainstream media and promoting the active pursuit of a pro-peace agenda.
Our challenge is to garner the support of great majorities of people who see themselves as responsible human beings in a world created for mutual justice, care and compassion. We must network widely. Our mobilisation efforts must be broad-based, and as diverse and inclusive as imaginable.
Without a doubt, the way of transformation calls us to stand face to face with the forces of death and evil, both within us and around us. It challenges us to resist the temptation to simply re-arrange furniture, whether that re-arrangement is in the structures of our psyche or that of our planet or the institutions to which we belong. It is a journey about life and about the passage from death to life.
I walk alongside many others in my journey of struggle and carry with me hope to move from oppressive and destructive power, to liberating life enhancing power. We should cease to be interested, as women and as Palestinians, to simply transfer power from men to women or from the Israelis to the Palestinians. Or from any group to another, for that matter.
For power is not a cake, which is cut up and diminished the more it is shared. Power, when shared, is a relationship that enriches everyone. The great rift is not between various human beings and communities. For we all belong together. Rather, the great rift is between care and lack of care, justice and injustice, mercy and mercilessness, compassion and indifference. What divides is not difference but sin, oppression and injustice. Difference does not destroy creation; rather it is our sin of allowing oppression and injustice to be perpetrated.
I have learned that the struggle for justice is one struggle, and that an action to subvert violence and strengthen human rights in one place is an action on behalf of people everywhere.
I cannot participate even indirectly in supporting and enabling unjust policies and the violation of basic human rights. Boycotts, divestment and sanctions are nonviolent means for individuals, churches, academic institutions, cities and corporations to highlight the need for adherence to international law and the rapid achievement of a just peace.
Nonviolence in the Palestinian struggle is certainly not new. However, there is a growing movement of not only nonviolent resistance, but also nonviolent direct action. In addition to actions, national organising conferences to further develop and articulate Palestinian nonviolent strategy bring together hundreds of community leaders with Israelis from the peace camp as well as internationals who risk their lives along side us. Entire villages are asking to be trained in nonviolent methods. Children are being trained in the methods and theory of Gandhi and Martin Luther King. Our Friends Centre in Ramallah has conducted drama workshops for young adults on nonviolent communication and peacemaking. This new trend builds upon tactics used in the first Intifada, such as tax resistance, boycotts, sit-ins and strikes, with a new generation.
I have seen, my friends, that nonviolence is threatening to the powers that be because nonviolence undermines their pretense to moral authority. Nonviolence reconceptualises power and passes power to the ordinary person to effect meaningful change. Nonviolence exposes and then challenges the structures of domination and not just the overt symptoms. It then, in turn, requires the oppressors to examine how they too are victims of the very violence that they impart. For in the end, the violence of occupation is killing – morally, physically and spirituality – both peoples.
We must not give up, for to give up is to give in to the forces of evil. We must continue to fan the embers of light no matter how small they are, because these embers of light give hope to those in the forefront of the struggle and will keep the work for justice and peace in the Middle East alive.

Jean Zaru is the author of Occupied with Nonviolence: A Palestinian Woman Speaks.
Links
Anna Lindh memorial site
Ramallah Quakers
Friend links
Jean Zaru wins justice award
A hundred years of Ramallah Meeting House
Charter of compassion and Ramallah Quakers
You need to login to read subscriber-only content and/or comment on articles.