BYM backs witness for Trudi Warner
'Measures being taken by courts in recent times include defendants being banned from explaining their motivation to the jury.'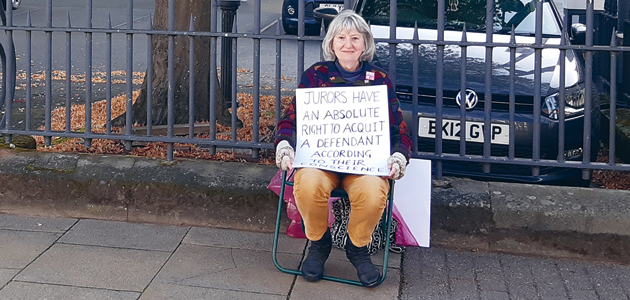 Friends were among over 250 people who sat outside UK courts last week to remind jurors they can decide according to conscience. Malvern Quaker Melanie Jameson joined a group of five others 'to witness in support of climate protestors charged and under threat for holding placards', she said.
The witness at Worcester Crown Court was part of the Defend Our Juries campaign, in support of Trudi Warner, who was arrested in March and faces prosecution. The message of her placard – 'Jurors, you have an absolute right to acquit a defendant according to your conscience' – was replicated by over 250 citizens and climate activists in courts as part of the nationwide campaign on 25 September before 10am, when cases typically begin to be heard.
Melanie Jameson told the Friend: 'Measures being taken by courts in recent times include defendants being banned from explaining their motivation to the jury. As a result people who have taken peaceful political action in support of long-established rights are now being sent to prison for up to three years.'
Another of the Worcester Court protestors, Lucy Porter, a former primary school teacher, told Worcester News: 'I'm doing this because it's so important that the legal system does not stop people from telling the whole truth in court, and does not stop jurors from making the decision they think is right when they have all the information.'
Britain Yearly Meeting (BYM) affirmed its support for the 250 protestors on social media. 'This vital precedent, established in the 1670 Quaker trial, is under threat, as judges ban defendants from mentioning it or even the words "climate change",' it said.
You need to login to read subscriber-only content and/or comment on articles.